Oscars 2013: Brave wins best animated feature film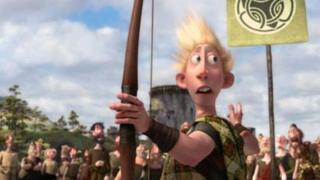 Brave has followed its success at the Baftas and Golden Globes by winning an Oscar for best animated feature film.
Scotland's First Minister Alex Salmond hailed the achievement of the film, which was set in the Scottish Highlands.
He said: "To win the Oscar for best animated film is a massive achievement.
"It is absolutely fantastic to see Merida and the gang continue to fly the flag for Scotland in Hollywood."
Brave, which tells the story of headstrong Highland princess Merida, is set in a pre-historic Scottish kingdom where magic holds sway in the forests.
It topped the US box office on its release in June, taking in an estimated £42.27m on its opening weekend.
Its Oscar success comes after it was named best animated feature film awards at the Baftas and the Golden Globes.
A host of Scottish talent provides the voices for the Disney-Pixar production, including Kelly Macdonald, Robbie Coltrane, Billy Connolly and Craig Ferguson.
Ticket sales
Mr Salmond said the film was a "wonderful depiction" of Scotland, adding: "I am certain that winning the top prize in the movie business will now mean it is seen and enjoyed by even more people right across the world."
Mike Cantlay, chairman of VisitScotland, was delighted to see Brave beat strong competition from Wreck-it Ralph, Frankenweenie, ParaNorman and The Pirates! In an Adventure with Scientists!
"I would like to congratulate everyone at Disney-Pixar involved in the making of Brave on this magnificent achievement after they recreated Scotland so beautifully on the silver screen," he said.
"Following the film's success at the Golden Globes and the Baftas, winning an Oscar really the icing on the cake for everyone involved in this fantastic movie."
Meanwhile, organisers of Glasgow Film Festival said this had been its most successful year to date, with record-breaking ticket sales.
In total, the festival had 39,106 admissions over the 10-day programme, the highest in its nine-year history and up 12% on last year.
The UK premiere of Joss Whedon's Much Ado about Nothing, a film adaptation of the William Shakespeare play, closed the festival on Sunday evening
Co-director Allan Hunter said: "We are so thrilled and humbled that audiences responded in such record-breaking numbers to our most ambitious programme ever."