Cardinal Keith O'Brien 'right' to resign ahead of conclave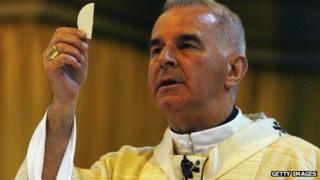 Cardinal Keith O'Brien's immediate resignation as leader of the Scottish Catholic Church was the right thing to do, according to a Vatican adviser.
Britain's most senior Roman Catholic has been accused of inappropriate behaviour towards priests dating back to the 1980s - claims he contests.
He had been due to take part in the election of Pope Benedict's successor.
Professor John Haldane said it would "not be helpful" for him to go to Rome "under the cloud of these allegations".
The allegations against Cardinal O'Brien emerged in a report in the Observer newspaper on Sunday.
It said three priests and one former priest, from the diocese of St Andrews and Edinburgh, complained to the Pope's representative to Britain, nuncio Antonio Mennini, in the week before 11 February.
The Vatican confirmed on Monday that the cardinal had stepped down from his post.
The move leaves Britain unrepresented in the forthcoming conclave to elect a successor to Pope Benedict XVI.
'Not helpful'
Speaking during a Newsnight Scotland debate John Haldane, Professor of Philosophy at the University of St Andrews and Vatican advisor said: "I think in the circumstances he [Cardinal O'Brien] has done the right thing.
"In the face of the fact that there has been the resignation of the Pope, which is unprecedented, and the imminence of a conclave to elect a new pope, I think in these circumstances, to go to Rome under the cloud of these allegations - even though they, at this stage, simply remain that - would not be helpful for him, it would attract attention.
"It would not be helpful for the Catholic Church."
Some commentators have suggested the cardinal's resignation is evidence of a growing crisis within the Catholic Church.
Clifford Longley, a columnist for the Catholic newspaper The Tablet, described it as "the worst thing that could possibly have happened to the Church at this moment - to have another row like this when there already so many going on."
But Prof Haldane said there was no chance of the Catholic Church "going into demise".
He added: "It has been around in its current form for 1,700 years and is going to be with us for a very long time.
"One in six of the world's population are Roman Catholic. This is the oldest institution in the western hemisphere.
"So I don't think it is going anywhere, but it is undergoing transformation.
"Very clearly one of the things that a new Pope has to do is really reform the internal organisation and structure of the church, and I think we will begin to see that."
'Speak out'
Cardinal O'Brien was due to retire when he turned 75 next month. His resignation statement said the Pope would appoint someone to govern the archdiocese in his place, until his successor was appointed.
Also speaking on Newsnight Scotland, Harry Reid, former editor of the Herald newspaper, who is currently writing a book about Scotland's relationship with religion, said he thought the cardinal's "sudden departure" would "leave a gap" in the Catholic Church in Scotland.
He described Cardinal O'Brien as a "forceful communicator" and added: "There isn't going to be an obvious senior Church person in Scotland to speak out as he has, so controversially and so clearly, on so many issues."
In the allegations, a former priest claimed Cardinal O'Brien made an inappropriate approach to him in 1980, after night prayers, when he was a seminarian at St Andrew's College, Drygrange.
A second statement from another complainant said he was living in a parish when he was visited by Cardinal O'Brien, and inappropriate contact took place between them.
A third complainant alleged to dealing with what he described as "unwanted behaviour" by the cardinal in the 1980s after some late-night drinking.
The fourth complainant claimed the cardinal used night prayers as an excuse for inappropriate contact.
In a statement as he resigned, the cardinal thanked God "for any good I have been able to do" and apologised "to all whom I have offended for any failures".