Unison to ballot over 1% pay offer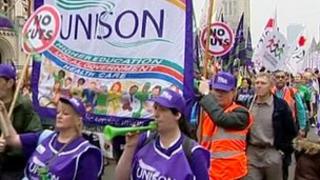 Public sector union Unison is to ballot its members over a 1% pay offer made by Scottish local authority employers.
Cosla, which represents local authorities, said the one-year offer - which also includes a Scottish Local Government Living Wage of £7.50 per hour - was final.
Union officials said they were "disappointed" with the offer.
A meeting of Unison officials on 15 March will decide whether to recommend members accept the deal.
Unison also wanted a guarantee that the Living Wage would automatically increase across all Scotland's Councils.
Dougie Black, joint trade union side secretary for Unison, said: "We welcome the fact that the employers have finally gone some way to addressing low pay by the introduction of a Living Wage. This has been a key component of our pay claims for the last few years.
"However, we are disappointed at the level of the offer at 1%.
"This has to be seen in the context of local government workers only having seen pay increase by 0.65% over the last three years, while many other public sector workers earning under £21,000 have received an annual payment of £250. And of course the cost of living has gone up, with big energy and food price increases."
The inflation rate, as measured by the Consumer Prices Index, was 2.7% in January.