Scottish independence: Reassurances over university research funding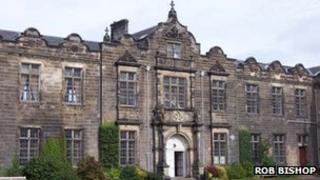 The Scottish government is to publish proposals aimed at allaying fears that university research budgets could be devastated after independence.
St Andrews University's principal, Prof Louise Richardson, had earlier warned independence could threaten access to £3bn of UK scientific research funds.
This could prove "catastrophic" for the funding of Scottish universities, she said.
The government said it would publish its proposals later this year.
The plans would seek to maintain "Scotland's world-class research tradition", a spokesman said.
In an interview with The Times newspaper, Prof Richardson said: "If we were cut off from national research councils, it would be catastrophic for this institution.
"We would lose our top academics. We would fail to attract serious academics.
"The government would suggest that we needn't worry, that this could be resolved and the aspiration is that we might be allowed to buy into the English councils, while at the same time establishing a small Scottish one. David Willets (The UK Universities Minister) has recently challenged that assumption."
St Andrews already recruits 30% of its students from outside of the UK.
Prof Richardson said she was concerned that a funding gap would be left by English students who would no longer be liable to pay their £9,000 tuition fees because they would be treated in the same way as other EU students.
Political influence
Another concern for Prof Richardson was a possible increase of political influence on the choice of research projects.
"If Scotland were to set up a research council, it would be very difficult in this small country for all the decisions to be made on the basis of excellence alone," she suggested.
But she added: "We acknowledge that the Scottish government is working hard to resolve this issue."
Prof Richardson also expressed fears about Scottish Education Secretary Michael Russell's proposal to widen access to poorer students, something she views as a threat to the autonomy of universities.
"I don't think bureaucrats should be setting targets," she said. "Articulate the principles and we will observe them.
'Widening access'
"I understand the need for access, but we don't need the government to tell us.
"We are utterly committed to widening access.
"My brothers worked on assembly lines. I'm one of seven kids, my mother didn't finish school.
"I don't need to be persuaded of the importance of an ability of education to transform people's lives."
Responding to Prof Richardson's concerns, a spokesperson for Mr Russell said:‬ "Our commitment to support our universities is widely recognised, not least as a result of the significant increase in funding we have delivered and our commitment to free education.
"We fully understand and recognise the importance of stability in long-term funding for research.
"We are in detailed discussion with universities and, as Professor Richardson has acknowledged, the Scottish government is working hard to offer reassurance to all universities that we can deliver an outcome that maintains Scotland's world-class research tradition."‬