Movember cash helps boost prostate cancer research funding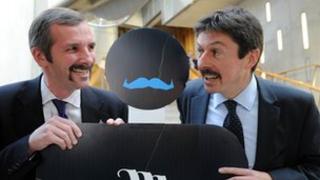 Cancer charities and the Scottish government have announced a £500,000 boost towards the fight against prostate cancer.
The government has added £225,000 to the money raised by the Movember Foundation and Prostate Cancer UK.
Movember raises funds and awareness of prostate cancer by encouraging men to grow a moustache in November.
The money is part of a matched-funding agreement between Prostate Cancer UK and the Chief Scientist Office.
The Scottish government will contribute £225,000, with the rest of the money coming from Prostate Cancer UK, with the support of the Movember Foundation.
Dr Iain Frame, director of research at Prostate Cancer UK, said: "Due to decades of underfunding and neglect, we still know far too little about why prostate cancer kills one man in the UK every hour.
"Working with our partners, the Movember Foundation, we have recently been able to triple our research spend to a record £25m over the next three years.
"Whilst incredibly proud to be making these investments, we remain acutely aware of how much more still needs to be done to get prostate cancer research on a level footing with other cancers and crack the disease once and for all.
Research projects
"The joint-funding package announced by the Scottish government today is another vital step in that direction."
Health Secretary Alex Neil said: "Prostate cancer is the most common cancer in men in Scotland and the fourth most common cancer overall.
"That is why Prostate Cancer UK and the Chief Scientist Office of the Scottish government have agreed to provide funding for Scottish-led research projects that aim to advance knowledge of prostate cancer.
"This represents an important collaboration between the Scottish government and Prostate Cancer UK in providing funding for research into a disease that is a major cause of mortality among men in Scotland."
More than 360,000 men and women took part in Movember across the UK last year in a campaign aimed at raising awareness of the caner that affects one in nine men across the country.