Scottish cities compete for culture capital title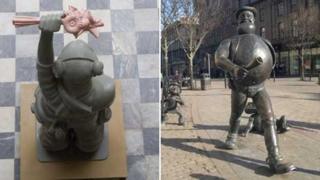 Aberdeen and Dundee are among the list of cities contending to be the UK City of Culture in 2017. They are bidding to follow on from Londonderry, which is the first UK city to be awarded the title. Why do cities compete for titles like this and what are the benefits?
Visitors to Aberdeen often comment on its big sky, a particular quality of northern light.
"I notice that in the work of my students," says Prof Paul Harris, head of Gray's School of Art in the city.
"And I think that gives us the opportunity to have distinctive themes, perhaps."
It is something the City of Culture bid team in Aberdeen want to highlight, along with other things such as Aberdeen's contribution to the world.
"We have an active voluntary sector within the cultural sector," continues Prof Harris, "and they're really the lifeblood of the activities."
Although he is not part of the bid team he is in no doubt about what the city has to offer.
"We also have significant collections and archives; we've got high quality cultural venues and a diverse cultural programme.
"If you combine all of that with great bars, good restaurants and decent leisure facilities it really does make a cultural offer which I think is as good as anybody's."
Further down the coast and, historically, Dundee's reputation was all about jute, jam and journalism.
Now it is forging a new identity with waterfront regeneration, plans for the V&A museum in Dundee, as well as a worldwide reputation for the computer games industry and varied cultural venues.
The council wants the bid to be about the whole city.
"Confidence in the city has been building in the last few years," says Lyall Bruce, a director at Fleet Collective, which brings together creatives, artists and designers.
"There's a lot of people taking risks and doing things that they wouldn't have otherwise," he says.
"A lot of people who would have sat around thinking how's the city going to help me, they're starting to say, actually how can I help the city and that's a great thing.
"That's when a city really starts to make an impact."
"Historically a lot of people have left Dundee and gone elsewhere and so it's only recently that people are actually deciding that we love this city, it's a really great city, we want to stay here and make our lives here and that's where the culture is coming from."
The UK City of Culture programme is UK-government administered and was inspired by Liverpool's time as European Capital of Culture in 2008.
The idea was for cities to look at their cultural identities, their heritage and assets and also as a means of letting the rest of the world know what they have to offer.
"Derry-Londonderry 2013" is the first UK City of Culture and in a city where its very name can be controversial they have even come up with a new way of describing it - "Legenderry".
"There's been a split in the programmers' jobs," explains Marie-Louise Muir, the presenter of BBC Radio Ulster's Arts Extra programme.
"You've somebody who's programming the international events - the Royal Ballet, the LSO coming to the city - but you've also got a community programmer."
"What I'm feeling is that there is a huge buy-in and that is testimony to the amount of work going into bringing the community on board. I know that is going to be key to the success of the city of culture."
Scotland already has an example of what a cultural designation can mean. In 1990, Glasgow was named European Capital of Culture.
"I think it was a growing sense of potential and a growing sense of what you could do in Glasgow," remembers Francis McKee.
In 1990 he was a student in Glasgow, now he's director of the CCA in the city.
The effects of 1990 on Glasgow were not, in his view, straightforward but actually form quite a nuanced story.
Big events
He says: "I remember a huge cultural hangover in early '91.
"We were city of culture and where was the culture after that?
"And then everyone said, 'we're just going to do this ourselves' and I think the city understood that as well.
"That was the perception that everyone learnt from 1990 that we have as much culture here, we don't have to bring it in from somewhere else necessarily."
Legacy is, of course, a much talked about portion of most big events - but how easy is it to actually measure?
"With culture you're also measuring the contribution to the human soul," says Prof Joe Goldblatt, executive director of Queen Margaret University Edinburgh's centre for planned events.
"How does an event such as the cultural programme for Glasgow 2014 influence young people to enrol in dance classes, to learn to play musical instruments and create a more socially cohesive community?
"Those things are more difficult to measure in terms of outcomes."
The bids for the UK City of Culture will be considered by an independent panel, chaired by Phil Redmond, creator of popular TV series including Grange Hill, Brookside and Hollyoaks, and a shortlist will be announced in June.
Creative industries
So what of the two Scottish contenders? Could the bidding process itself bring benefits to both?
"If you look at Dundee and Aberdeen together, going for the bid is adding attractiveness to the whole region," says Prof Harris.
Although he now lives in Aberdeen, he used to be at the University of Abertay in Dundee where he was involved in the growth of the creative industries sector in the city.
"For the east coast of Scotland, with regard to being known for its creativity and its cultural provision, I think it can only be good for both cities, for the region and indeed for Scotland."