Sharp drop in Scottish bird poisoning cases follows new crime legislation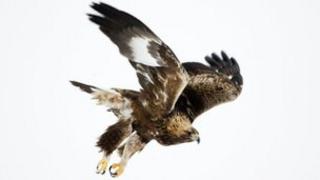 New wildlife crime legislation targeting landowners is being linked with a sharp drop in the numbers of birds of prey poisoned in Scotland.
But the RSPB warned that there were still concerns birds could be killed using other methods that are more difficult to detect.
Poisoning incidents fell from 10, involving 16 birds, in 2011 to three in 2012, according to the latest figures.
A new offence of Vicarious Liability came into force in January 2012.
It is designed to deal with landowners and managers who turn a blind eye to employees committing offences against wild birds on their land.
The latest figures, released by the Partnership for Action Against Wildlife Crime (Paw) Scotland, showed that two buzzards and a golden eagle died through poisoning during the first year of the new legislation being in force.
Paw chairman Paul Wheelhouse, Scotland's environment minister, said: "I very much welcome the significant reduction in the number of birds of prey poisoned, which I hope signals the real change in attitude that is required to end this outdated and cruel practice.
"I believe that new measures brought in by the Scottish government over a year ago - which mean that landowners and managers can no longer turn a blind eye to offences against wild birds on their land - are a major deterrent to those who think they are above the law.
"There has been real progress, but we will not be complacent. I am determined to stamp out these practices once and for all and will remain vigilant to any change in approach being taken by those who seek to persecute raptors."
RSPB Scotland head of species and land management Duncan Orr-Ewing told BBC Scotland that it was too soon to say that the practice was close to being eradicated.
"After three years of successive drops, it looks like there has been a general reduction in illegal poisoning," he said.
"But that these are only detected incidents - often by hill-walkers and members of the public - and only of poisoning.
"The concern is that those involved have switched to other methods, such as shooting, trapping and nest disruption, which are more difficult to detect."
A total of 91 birds of prey poisoning incidents have been recorded in Scotland since 2008, with 2011 having witnessed a sharp fall to 16 from a high of 28 the previous year.
In the past year, the golden eagle was poisoned in March on the west coast in the Highlands, while the buzzard incidents were in Grampian in September and Dumfries and Galloway in December.
Scottish Land and Estates chief executive Douglas McAdam said: "These latest figures from SASA [Science and Advice for Scottish Agriculture] represent the most substantial progress on this issue for many years.
"Both RSPB Scotland and Scottish Land and Estates are not complacent about this issue, however, and there will be no let-up in our joint efforts to eradicate illegal poisoning and all other forms of wildlife crime."
The Scottish Gamekeepers Association is another member of the Paw partnership and chairman Alex Hogg also welcomed the new figures.
"The illegal poisoning of birds of prey has no place in wildlife management and the Scottish Gamekeepers Association and other partners will continue to do everything possible in the hope that this practice can be eradicated completely," he said.