Scottish universities 'worst in UK' for attracting poor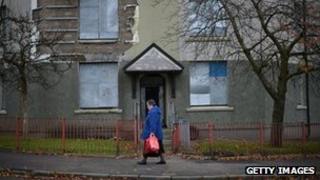 Fewer than one in 10 Scots at Scottish universities come from the poorest neighbourhoods.
The Scottish Funding Council, which has released the figures for 2011-12, indicates that the level has flat-lined for six years.
A separate study by the Higher Education Statistics Agency has indicated that Scotland has the lowest level in the UK.
The continuing low level is despite the abolition of tuition charges in 2008.
It is also despite a raft of schemes, such as summer schools and outreach visits, designed to stimulate more applications.
The National Union of Students (NUS) in Scotland is calling for further action to encourage a more diverse intake.
However, Universities Scotland, the representative body, says the figures fail to capture the results of fresh action over the last year.
It says schools and nurseries also have a role to play with action to encourage children at a formative age to aim high.
'Cannot be tolerated'
The HESA study indicates that only 26.6% of students in Scotland are from lower socio-economic groups compared to 30.7% for the UK as a whole.
In England, the figure is 30.9%, in Wales 29.1% and in Northern Ireland 39.1%.
NUS Scotland president Robin Parker said: "We know universities can't do it all on fair access, but they can, and must, do a great deal more than this.
"Scotland remains the worst in the whole of the UK. This is a record we simply cannot tolerate any more. "
NUS acknowledged a new requirement from the Scottish government for universities to reach agreed targets on their intake of students from disadvantaged areas.
It welcomed the creation of more than 700 ring-fenced places for students from this background and welcomed changes in student grants and loans.
However, it said that the latest figures confirm the case for proposed legislation on universities' social intake.
"Without legislating on widening access, we could easily make no progress at all for many years to come," said Mr Parker.
"When we're quite rightly investing hundreds of millions of public money into our universities, we must make sure they're benefiting the whole of the public, and this is an opportunity we shouldn't squander."
'Ability to learn'
Education Secretary Mike Russell said: "These statistics prove, if proof was needed, that we are right to legislate on widening access and that is why the Post-16 Reform Bill needs the support of the parliament.
"We have already added places for students from disadvantaged backgrounds, through an investment of £10m in 2,000 extra places for 2013/14, including over 700 targeted at widening access schemes, and we will continue to work with universities.
"We have already taken action to ensure university access is based on the ability to learn, not the ability to pay.
"On top of this, the best package of student support in the UK will come into force this year, ensuring students from the poorest families receive an income of at least £7,250 a year."
The figures from the SFC indicate that 9.1% of the 20,852 Scots residents at Scottish universities are from the 20% most deprived areas, while 22.5% are from the 40% most deprived zones.
Universities Scotland said it anticipates that the proportion from these zones will increase by 15% next year when the new Scottish government scheme requiring universities to set aside more than 700 places for students from disadvantaged areas comes into force.
Director Alastair Sim said: "It's unfortunate that the inevitable time-lag on the data means that today's figures don't yet reflect the big step-up to widen access that universities have taken over the last year.
"Every university is committed to doing so and has signed up to an outcome agreement, including goals for progress."