Lynda Spence trial: Murder accused denies knowing woman's whereabouts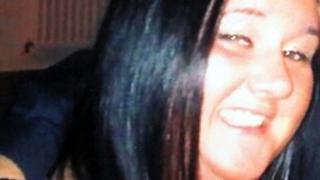 One of two men accused of murdering missing businesswoman Lynda Spence has said he does not know her whereabouts and that he did not kill her.
Colin Coats claimed that Ms Spence's former lover offered him £20,000 to reveal where she was in April 2011.
He told the High Court in Glasgow that he refused the money because: "Lynda was a very close friend of mine and I was looking out for her."
Nr Coats denies abducting, torturing and murdering Ms Spence.
Co-accused Philip Wade also denies the charges.
Mr Coats told the court he only knew that Ms Spence had duped him with fake bearer bonds when he came face-to-face with the man who had forged them on 6 June 2011.
'Fool's gold'
Questioned by defence QC Derek Ogg, Mr Coats admitted that he did not expect to see any of the money he had in Ms Spence's business again.
The accused agreed that "the crock of gold, the millions, had became fool's gold".
Former co-accused Paul Smith, 47, and David Parker, 38, were acquitted of murder after pleading guilty to a reduced charge of holding Ms Spence against her will and assaulting her at a flat in West Kilbride.
Mr Coats told the court that he travelled almost daily down to West Kilbride to see her between 14 and 26 April and was told by Smith and Parker three days later, when he met them by chance in Largs, that she had left and gone to Dumfries.
The accused said that he had considered Ms Spence a close friend and had not harmed her in any way.
Mr Coats said that he met with Ms Spence's former lover, Sokol Zefaj, in the West End of Glasgow in April 2011 and refused to reveal her whereabouts.
'Horrific crimes'
He told the court that Mr Zefaj had not known that he had been a party to hiding her.
Mr Ogg asked Mr Coats: "Look into your conscience. Is there anything about Lynda Spence that you can tell this court, about her whereabouts for example?"
He replied: "All I can tell you is I am wrongly accused of murder and other horrific crimes.
"I am not aware of her whereabouts or whether she is alive or not."
The trial before Lord Pentland continues.