Scotland's debt 'could be lower' than UK, says Scottish government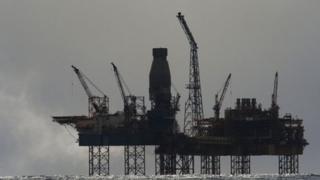 The Scottish government is proposing an independent Scotland could take on a public sector debt burden at just over half of the rate faced by the whole UK.
The SNP administration has estimated the share of the UK's debt if it was allocated based on population.
It contrasts this with what it claims is the different position if Scotland is credited with revenue from oil and gas over the past 30 years.
The UK Treasury said the analysis was based on "favourable assumptions".
Population share
Scotland's share of the UK's debt would be a part of any negotiations following a Yes vote in the independence in September 2014.
The UK faced public sector debt in 2011-12 of £1,100bn, 72% of Gross Domestic Product (GDP), the main measure of an economy's output.
Ministers at Holyrood said that a share-out of that debt to an independent Scotland on the basis of its population share would come to £92bn.
Because Scotland has a higher GDP per head if oil and gas is included, that equates to 62% of national output.
Scottish GDP including oil and gas from Scottish waters came to £150.8bn in 2011-12.
When Scotland is calculated to have its population share, including offshore oil and gas, it comes to £127.2bn.
But the SNP's other reckoning is that Scotland should have to pay less debt, because oil and gas from under Scottish waters has contributed more in tax over the past 30 years.
On that basis, it says Scotland should only have to take on £56bn, which was 38% of GDP in 2011-12.
That would take Scotland's debt levels to around those the UK had before the credit crunch.
The latest reckoning of Scotland's financial position is part of a report published called 'Scotland's Balance Sheet'.
Tax receipts
Parts of it were released earlier this week.
In these, the Scottish government argued pension and welfare costs would be a smaller share of the Scottish economy than for the UK as a whole and most of western Europe.
A second portion of the report highlighted figures showing tax receipts, per head, have been higher than those of the UK for the past 30 years.
That offshore asset is calculated to give Scotland a GDP per head higher than the UK.
Tax on oil and gas production would also have given an independent Scotland a higher tax take per head over the three decades.
Without offshore oil and gas, Scotland's GDP is in a similar position to that of the UK as a whole, and its share of taxes paid to the UK Treasury is thought to be slightly lower than that share of Scotland's population.
Nicola Sturgeon, the deputy first minister, said: "The mismanagement of the UK economy by Westminster has led to a situation where we are all burdened with a massive UK debt. That is an argument for independence, not against it.
"Scotland's share of the UK's public sector debt will obviously be a crucial part of the negotiations following a vote for independence and this analysis shows that Scotland will be in a strong position in these negotiations".
The minister added: "It is clear that, whatever way we look at it, Scotland is in a much better financial position than the UK, including on the issue of national debt.
"Both of the methodologies show that Scotland's estimated share of national debt takes up a smaller proportion of our economy than is the case for the UK, which means that in all circumstances, Scotland will be better off with independence."
A spokesman for the UK Treasury said: "This is a partial analysis based on favourable assumptions and data from a year when North Sea receipts were particularly high.
"Scotland benefits from spending that is consistently 10% higher per person than the UK average.
"The independent IFS have explained that Scotland would face a much tougher fiscal challenge over the long term than the rest of the UK.
"The Scottish government's own internal analysis acknowledges that North Sea receipts will fall dramatically over the coming decades.
"This report doesn't explain how an independent Scotland would fill the black hole it will leave in its finances."