Cyclists call for 'strict liability' law to hold drivers to account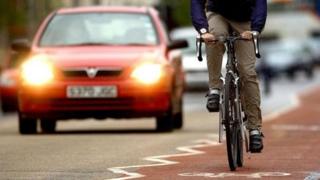 Cycling campaigners are calling for a new law in Scotland to make motorists automatically at fault in an accident.
The UK is one of only five European countries that do not currently have the law, known as "strict liability".
Campaigners, including the mother of a 32-year-old Edinburgh man killed in a collision with a lorry in 2011, said the law would help reduce the number of cyclists killed and injured.
But critics said it was unfair, and smacked of the "arrogance" of cyclists.
Seven cyclists were killed and more than 150 were seriously injured on Scottish roads during 2011, according to Transport Scotland figures.
Under a strict liability law, motorists would be held responsible in the civil courts for all accidents involving cyclists - unless they can prove they were not to blame.
Supporters of the Campaign for Strict Liability say it would greatly reduce the time it takes for accident victims to win compensation.
Lynda Myles, whose son Craig Newton died after he was involved in a collision with a City of Edinburgh council lorry, said she fully supported the idea.
"Over the two years since Craig's death, our whole family has been emotionally exhausted trying to make sense of what happened to him on that morning," she said.
'Smacks of arrogance'
However, opponents of the idea said cyclists and motorists should be equally responsible for road safety.
Alan Douglas, a motoring journalist and member of the Institute of Advanced Motorists, told BBC Scotland's Call Kaye programme: "I think this is an absolutely astonishing suggestion. Everyone using the roads is subject to the same law.
"We all have equal responsibility, and surely the person who should be held responsible for an accident is the person who causes it.
"This assumption that it is always the motorist at fault is absolutely breath-taking. It smacks of the sort of arrogance that we hear from some cyclists."
A strict liability law would see the introduction of a hierarchy based on the vulnerability of road users.
It would also mean that cyclists would be held automatically responsible for accidents involving pedestrians.
Gathering support
Ian Maxwell, of the cycling campaign group Spokes, said the law was not a "simple motorist blaming exercise".
"It is a road safety measure," he said.
"It's not a case of saying you're going to blame drivers no matter what, it's about the assumptions you make at the start of a case.
"If a cyclist causes an accident, and can be shown to have caused an accident, they don't automatically get off."
Apart from the UK, only Cyprus, Malta, Romania and Ireland do not operate a system of strict liability for road users, campaigners said.
The Campaign for Strict Liability: Road Share, which is supported by Cycle Law Scotland, driving school RED, and a number of cycling groups, has launched an online petition in support of a change in the law.
They are hoping to introduce a private member's bill into Scottish Parliament.
Nathan Kaczmarski, policy officer at Cycling Scotland, said the call for strict liability was due to be discussed at a Scottish government cross-party meeting on Thursday.
He added that other measures were also needed to improve cycle safety.
"It's about training, and ensuring that there is good, safe infrastructure," he said.