People with asthma warned over fatal attacks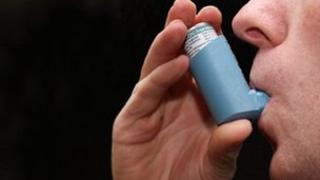 More than 145,000 people in Scotland are unaware they could have a potentially fatal asthma attack, according to Asthma UK Scotland.
The charity said 49% of people with asthma, over the age of 12, did not realise they were at increased risk of an asthma attack.
The data was published to coincide with its Stop Asthma Deaths campaign.
People with asthma are being urged to take the charity's online test to assess their risk levels.
The Triple A: Avoid Asthma Attacks test also provides advice on how to minimise the possibility of an attack.
Asthma UK Scotland aims to reduce the number of deaths through asthma attacks, which claimed the lives of 94 people in Scotland in 2011.
Across the UK, 1,140 people die each year from an asthma attack.
The charity said the vast majority of these deaths were preventable.
Changing attitudes
Gordon Brown, national director of Asthma UK Scotland, said: "We can all help stop asthma deaths, and we need to start by changing the attitude that 'it's just asthma'."
Aileen Alexander, whose daughter Kiera died aged 11 in September 2010, agreed that asthma should not be taken lightly as a condition.
Describing the day her daughter died, she said: "She was a bit breathless and took a couple of puffs of her inhaler, as normal.
"Later that night, she came into our room, saying she was finding it hard to breathe. We told her to take her inhaler and go back to sleep.
"She often came into our room at night like that and we didn't think anything was different.
"Not long after that her younger sister came in, saying Kiera wasn't answering.
"I knew as soon as I saw her that she was dead. I never for a moment thought I'd lose her like that."
She added: "We have to make people realise that asthma can be a killer."
Common risks which can contribute towards an asthma attack include:
Not taking your preventer inhaler every day
Ignoring worsening symptoms
Not having a personal asthma action plan.
The figures, from Asthma UK Scotland, were based on 4,646 responses from Scotland, from 31 January 2012 to 4 April 2013.