Lib Dems back Tory calls for Holyrood Thatcher debate to be moved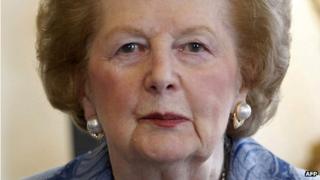 The Scottish Liberal Democrats have joined calls for a debate on the legacy of Baroness Thatcher to be moved from the day of her funeral.
The Green-Independent group at Holyrood have set aside their allotted parliamentary time on Wednesday to hold the debate.
Scottish Conservative chief whip John Lamont said it was timed to "cause the most upset".
The Lib Dems have now backed Tory calls to have debate rescheduled.
Conservative MSPs have said say they will contest the timing of the debate at a meeting of the Parliament's Business Bureau on Tuesday morning.
Lib Dem business manager Alison McInnes MSP said: "Margaret Thatcher was often accused of lacking empathy.
"It would be a mistake for her opponents to show a similar lack of empathy on the day of her funeral. It is important we remember that Margaret Thatcher was a mother and a grandmother.
"A consensus is developing that, whatever we thought of her politics, political hostilities should be abandoned on the day that she is laid to rest."
'Reflect badly'
Former prime minister Margaret Thatcher died a week ago, aged 87, after suffering a stroke.
She has been accorded a ceremonial funeral with military honours, one step down from a state funeral.
A military rehearsal of the procession took place in central London during the early hours of Monday morning.
The proposed title for the Scottish Parliament debate is "There is still such a thing as society", which alludes to an assertion made by Baroness Thatcher in 1987.
In a magazine interview, Mrs Thatcher said: "There's no such thing as society. There are individual men and women and there are families."
Speaking at the weekend, Scottish Greens leader Patrick Harvie said: "We aim to encourage honest consideration of the legacy of Thatcherism, the core elements of which, competition and selfishness, continue to affect our society and our economy."
Scottish Conservative chief whip John Lamont welcomed support from the Lib Dems for the debate to be moved to another day.
He added: "Hopefully the other parties will now follow suit. It is perfectly possible for this debate to be moved to another slot.
"Staging it at the same time as Baroness Thatcher's funeral will reflect badly not only on the Green party orchestrators, but the Scottish Parliament as a whole."
Business managers from all the parties will attend the bureau meeting. A majority of votes is required to change the timetable, which was agreed in March.
Minister for Parliamentary Business Joe FitzPatrick said: "It is entirely for opposition groups to determine how they use their allocated parliamentary time.
"It would set a dangerous precedent to interfere with that.
"If the Green party wishes to move its business to another day then we would be happy to facilitate that."