Plans to close 10 sheriff courts approved by Scottish government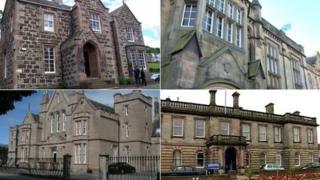 Plans to close 10 sheriff courts around the country in a bid to save money have been approved by the Scottish government.
The changes, proposed by the Scottish Court Service, will also see seven justice of the peace courts closed, with business transferred elsewhere.
In addition, the number of courts hearing sheriff and jury cases across Scotland will be reduced.
Justice Secretary Kenny MacAskill said the reforms were "justified".
Critics have argued the closures will limit access to justice.
It is estimated the changes could save the Scottish Court Service about £1.3m annually and a one-off initial saving of £3m.
Mr MacAskill said: "I believe that given the financial constraints we are all working under, these changes are justified and are compatible with our wider justice reforms.
"Unfortunately, the fragmented and outdated court system we inherited - where many smaller courts are not fit for purpose and are under-used - is no longer sustainable."
The recommendations have been accepted by ministers and must now be approved by MSPs.
The reforms would see the closure of 10 of the existing 49 sheriff courts in Scotland, including nine co-located justice of the peace courts.
The court service also proposes to close seven stand-alone justice of the peace courts.
The closures would come into effect between November this year and January 2015.
The justice secretary said the 10 sheriff courts facing closure accounted for just 5% of the court service's total business.
He said the Scottish Court Service was "confident" it could deal with the business within a "smaller number of better equipped courts".
New video conferencing facilities are being introduced in six northern courts, including at Kirkwall, Lerwick and Stornoway, and at four other locations.
Mr MacAskill said this would minimise the inconvenience of people having to travel to appear in court.
He added: "By making its proposed court closures and other changes to the handling of court business, SCS estimate they can save £1m a year in running costs and £3m in maintenance costs, money which can be better spent on improving services and facilities at a smaller number of courts."
Other provisions recommended by the Scottish Court Service would see sheriff and jury cases heard at just 16 sheriff courts on the mainland and five island courts - at Lerwick, Kirkwall, Stornoway, Lochmaddy and Portree.
These changes would be phased in over the next 10 years.
'Slap in face'
The proposals have been met with opposition from the Law Society, unions and local MSPs.
The Public and Commercial Services Union (PCS), which represents court staff, called on the Scottish government to ensure its guarantee of no compulsory redundancies is met. The union also expressed concerns about access to justice.
Brian Carroll, Secretary of the PCS Scottish courts branch said: "We are extremely disappointed that ministers appear to have accepted the recommendations made by the Scottish Courts Service without examining the full impact of the permanent removal of sheriff courts from communities across Scotland.
"It will mean staff and users of the courts will have to travel substantial distances to attend and will reduce the access to justice for all users."
Lewis Macdonald, Scottish Labour list MSP for the North East of Scotland, described the Scottish government's approval of the recommendations "slap in the face" for all the local communities affected by the closures.
He added: "Only on Tuesday, Kenny MacAskill said he'd give proper consideration of the impact the closures would have on access to justice and on local economies. That proper consideration has taken him just three days.
"All those local communities and elected representatives who wanted to make a case for their local court, including members of his own party, have been told that they needn't bother - ministers have their minds made up."
Local communities
The Scottish Conservatives said the changes would mean those courts still in operation would have to hear at least another 10,000 cases a year.
Tory chief whip John Lamont MSP said: "Courts that are already overstretched are now in line for yet more work, and that will lead to lengthy and costly delays.
"Closing a fifth of the country's sheriff courts will also be of huge inconvenience to victims and witnesses, who already find themselves involved in the justice system through no fault of their own."
Lib Dem justice spokeswoman Alison McInnes MSP urged local SNP MSPs to show support for local courts.
She added: "They have it in their power to save the local court in their area.
"Scottish Liberal Democrats believe that justice is best delivered as locally as possible. Once again, SNP ministers are ignoring the concerns of local communities."