Scottish Scout numbers on the rise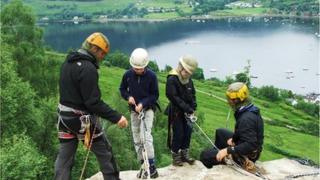 Scout numbers in Scotland have grown at almost twice the rate of the UK as a whole in the past year, according to new figures.
Scouts Scotland said membership rose by 4.1% to just under 43,000 - the highest figure recorded since 1999.
Across the UK, numbers grew by 2.2% over the same period.
Scout leaders said the strong growth showed "the fun and attractiveness of Scouting" and its positive impact on local communities.
In Scotland, the number of teenagers joining the organisation has risen by 8.8% in the past 12 months, while there was 6.1% growth in adult volunteer membership.
The number of female youth members has also doubled in the past six years, and now stands at nearly 5,000.
Girls accounted for nearly 40% of the 1,300 new youth members who joined over the past year.
Scout numbers in Scotland have increased by almost 25% since the launch of a development strategy following the World Scout Centenary in 2007.
The organisation said it was keen to make Scouting more accessible in both rural and urban areas across Scotland in future.
New groups have been established in areas such as Portree on Isle of Skye and Ballachulish in Lochaber, which have not had Scout groups for decades.
'Positive impact'
Scout chief commissioner for Scotland Graham Haddock said: "We are delighted with yet another year of strong growth figures, which show the fun and attractiveness of Scouting, and the positive impact it has on lives and local communities.
"None of this would be possible without the dedication of our 7,000 adult volunteers who give of their time either regularly or ad hoc, and we thank them for making these opportunities a reality for the young people they interact with.
"We hope to make Scouting even more accessible in different areas of Scotland over the coming years."