Highland Spring owner Mahdi al-Tajir 'richest man in Scotland'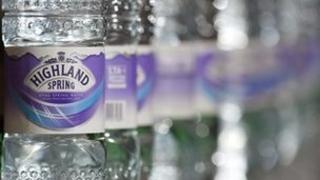 Scotland's richest people got richer over the past year, with a record number of billionaires, according to The Sunday Times.
The paper's Rich List for 2013 counted six Scottish billionaires - four more than two years ago.
Scotland's richest man was named as Mahdi al-Tajir, owner of mineral water firm Highland Spring.
The Sunday Times estimated his fortune at £1.65bn, making him the 44th richest person in the UK.
Russian businessman Alisher Usmanov topped the Sunday Times ranking for Britain and Ireland, with a fortune of £13.3bn.
The combined wealth of Scotland's 100 richest people amounted to a record £21.1bn - almost double the level in 2004.
The number of people in Scotland among Britain's richest people also hit a 10-year high, with 78 joining the latest list, compared with 74 last year.
Mr al-Tajir, 81, who is a former UAE ambassador to the UK, owns a 24,000 acre estate near Gleneagles, Perthshire, and splits his time between there and London.
He has interests in metal, oil and gas trading and a large property portfolio, as well as running Highland Spring.
Billionaire list
He is joined on the list by the Grant and Gordon whisky family, worth £1.4bn, and oil tycoon Sir Ian Wood, whose fortune is estimated at £1.2bn.
Other Scottish billionaires include the Thomson family, whose DC Thomson publishing company is valued at £1.1bn, and Alastair Salveson and his family, who have a £1.05bn share of temporary power firm Aggreko.
Businessman Jim McColl, who is chairman and chief executive of Clyde Blowers, is estimated to be worth £1bn.
Overall, Britain's wealthiest people have a combined fortune of £450bn.
Rich List editor Ian Coxon said: "The 2013 Rich List shows that business is booming in Scotland, from Aberdeen to Ayr.
"The good news for the country's economy is that much of the £21bn wealth accrued by the top 100 millionaires has been made by generating worldwide demand for Scottish products and knowhow."