MSPs to hold inquiry into Scottish court reform plans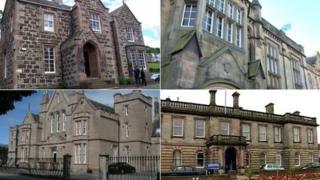 The Scottish Parliament's justice committee is to hold an inquiry into the proposed restructuring of court services.
The money-saving plans include the closure of ten sheriff courts and seven justice of the peace courts.
They were proposed by the Scottish Court Service and have the backing of ministers.
MSPs are seeking evidence on whether or not the reforms will affect local access to justice.
The recommendations have been criticised by opposition parties, who claim witnesses will be inconvenienced and the remaining courts will be overstretched.
It is estimated the changes could save the Scottish Court Service about £1.3m annually and a one-off initial saving of £3m.
The reforms would see the closure of 10 of the existing 49 sheriff courts in Scotland, including nine co-located justice of the peace courts.
The court service also proposes to close seven stand-alone justice of the peace courts.
The closures would come into effect between November this year and January 2015.
Last week Justice Secretary Kenny MacAskill gave the restructuring proposals his backing and said the changes were "justified and are compatible with our wider justice reforms".
Opposition parties have accused the government of "ignoring the concerns of local communities."
The justice committee will hold three panels of witnesses at a meeting on 21 May, with Mr MacAskill due to give evidence in June.
Justice committee convener Christine Grahame MSP said: "It is vital that we get the full picture of how these proposals from the Scottish Court Services may impact on everything from court users to the provision of legal services and access to justice.
"Our call for evidence asks people in the communities directly affected by the proposed closures across Scotland how they feel about the changes.
"Do they feel that travelling further to a sheriff court as a witness will affect their access to justice? Or do they feel that the reforms will offer court users an improved and specialist service in a concentrated area?
She added: "We also hear from local sheriffs that sometimes the greatest sanction for the guilty party can be the threat of being named and shamed in the local press who cover the courts - so how would the proposals affect the deterrent of local media coverage?"