Survey examines literacy levels in Scottish schools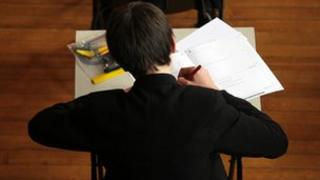 A new survey of literacy has found pupils performing well in reading but having weaker results in listening and talking.
The Scottish Survey of Literacy and Numeracy (SSLN) looked at performance in school years P4, P7 and S2.
About 10,100 pupils took part in the first survey in May last year.
Learning Minister Alasdair Allan said more than 90% of pupils were within or above expected reading and writing levels.
For the purposes of the survey, literacy was split in three categories - reading, writing, and listening and talking.
Within each category pupils were assessed into one of four levels of attainment.
'Least strong'
These were "Not yet working within the level", "Working within the level", "Performing well at the level", and "Performing very well at the level".
For writing and for listening and talking there was an additional category - performing beyond the level.
The majority of pupils in all stages were performing well or very well at the relevant Curriculum for Excellence level in reading - 83% in primary 4 (P4), 90% in primary 7 (P7) and 84% in the second year of high school (S2).
Writing performance was highest in P7, where 72% of scripts showed pupils performing well, very well or beyond their level.
At both P4 and S2, 64% of pupils performed well or better at their stage.
Performance was "least strong" in listening and talking.
Technical issues
In P4 and P7, 56% and 58% performed well or very well.
In S2 this was down to 46%.
The percentage of pupils performing "beyond the level" was less than 1% at all stages.
In S2, 17% were "not yet working within the level appropriate for their stage".
The survey said some schools had technical issues which may have affected the way the assessments were carried out.
It also meant there was a smaller sample size for listening and talking, and the results were less reliable.
Scotland's largest teaching union, the EIS said the survey offered "welcome reassurance" that pupils continue to perform well in Scottish schools.
EIS General Secretary Larry Flanagan said: "However, the report uses language such as 'working within their respective levels' which is not how progress should be measured. Progress is a continuum; the levels are indicative not replacement categories for the old 5-14 framework.
"Of particular concern is the clear evidence that poverty and deprivation continue to impact on young people's progress."