Eating same food as parents 'healthier for children'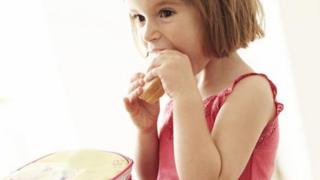 Children who eat the same food as their parents have healthier diets, according to a new study.
The University of Edinburgh research looked at the family meal habits of more than 2000 five-year-olds.
It also found that an "unpleasant atmosphere" during mealtimes could negatively affect a child's diet.
The report called for more to be done to help parents establish good eating habits in children's early years.
The report suggested that "child-friendly" alternatives to adult food were likely to be nutritionally inferior.
Valeria Skafida, author of the paper, said: "Offering separate 'children's food' for a main meal may often result in children missing out nutritionally.
"It is likely that in cases where children eat different foods, they are eating a less nutritious option.
"This is already known to be the case with kid's menus in restaurants, so children are best off eating the same foods as their parents."
The study also identified other meal habits which had a smaller impact on diet.
Not eating a main meal during the day, frequent snacking between meals, eating in the living room or bedroom, and an "unpleasant atmosphere" during mealtimes were all weakly associated with poorer diets.
The study also found that firstborn children had healthier diets than second or third born.
The paper recommended that government advice to families should be kept simple.