Delivering a sofa solution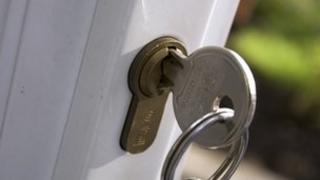 I'm Fergus Muirhead and I'm here to answer any questions you may have about any money or consumer issues.
Please drop me a line at fergus@bbc.co.uk with your questions. You can also read more on money and consumer issues on my own blog.
Q. We bought a new house with an entry date of 26 April. We went into DFS in January and ordered three sofas. We advised the sales consultant that it was a new house and explained the entry date. We later went into DFS to confirm delivery date for 27 April. We were reassured this was fine and everything was in hand. I called on Tuesday to pay the balance and check the delivery time, and was advised the sofas would be arriving in-store on 2 May and would be delivered 24-48 hours after this date. I explained there must be some mistake, as this is a week after we move in. They checked the systems and said there was nothing that could be done. I explained it was for a new house and we have no furniture, but they simply did not care. I asked them to speak to the supplier and waited for another call back which I didn't get. I called again and had to explain a third time. The result was nothing could be done. They advised that the delivery date we had expected was a 'no earlier date' for them. We are extremely frustrated with the lack of service and the fact that there were no updates and the situation was not explained. We are now going to be a week in a new house with no sofas. Nadeen Watson, Glasgow
A. I've printed your email because it will let others read just how frustrated you were with the thought of having to move into your brand new house with no sofa, especially when you are sure that DFS were aware of the date by which you needed your furniture at the point it was ordered.
It seems there was a 'misunderstanding in communication' with DFS in relation to the date that your order was expected to be delivered, and they were working to a 'not before' date whereas you were working to a 'we need it on this' date.
DFS tell me they can't deliver your furniture until four days after you move in because they can't get it from the manufacturer until then. I have to say, though, that they have been creative and come up with a solution that I know you are satisfied with. They have agreed to deliver some of their showroom furniture to you for you to use until your own furniture arrives. Not perfect I know, but at least you won't have to stand on your first nights in your new house.
It's worth pointing out to others reading this that there is often no guarantee on delivery dates with new furniture, and that often a retailer will have no liability to deliver goods by a certain date unless that date is specified in the contract. Anything else is usually covered by 'we'll do our best to get this to you by then but we can't guarantee it' type of small print.
So if you absolutely need new purchases by a specific date then you need to make sure that you specify that date at the same time as you buy the goods.
Q. I need to cash in some or all of a cash Isa, or alternatively some of the interest. What is the best time in the financial year to do this as I need to do repairs to my house and do not have access to other funds? Margaret Whitcroft
A. ISAs have no specific time period and so money can be withdrawn from them whenever you like. Having said that, with a cash ISA you may be locked into a specific rate of interest that is payable over a fixed term, and you may suffer some loss of interest if you withdraw your cash before the end of the fixed term, but if you need it you can still withdraw it.
If you have a stocks and shares ISA then again you can take your money out whenever you want to, but you may be doing so at a loss depending on what has happened to the markets and the funds that you are invested in, since you invested your money. And remember as well that once you have taken money out of your ISA you can't put it back in the same year.
So if the ISA you have was set up in 2011 and you withdraw the money today and don't use it, you can't put it back into the 2011 ISA it came from - you will have to use this year's allowance.
So only take the money out if you're sure you're going to need it but be happy that it's your money and you can access it whenever you like even though, as I mentioned earlier, if it is in a fixed-term account then you may lose a bit of interest.
And for anyone thinking about setting up an ISA, remember that fixed term ISAs are better if you are reasonably sure that you are not going to need the money during the fixed period. Likewise stocks and shares ISAs carry a bit of risk and you should only consider using them if you know that you are not going to need access to the money in the first four or five years after you have invested.