Name game: How to name a bridge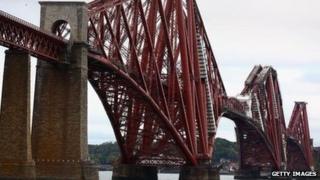 The public are being asked to vote to decide the name of the new Forth bridge. But how important is the name?
The oldest Forth Bridge is the railway crossing, which opened in 1890.
The Forth Road Bridge has been open for almost 50 years but construction of the new £790m crossing between Edinburgh and Fife began last year and is due to finish in 2016.
When Transport Scotland put out a call for possible names for the new Forth crossing, they were inundated with more than 7,600 suggestions - not all of them serious.
Among the proposals were 'The Missing Link', 'Salt n Sauce Bridge', and 'May the Forth be with You'.
Another person suggested 'Kevin' (as in Kevin Bridges, the Scottish comedian).
William Wallace, Sir Chris Hoy, Andrew Carnegie, Sir Sean Connery, and Muriel Spark were some famous Scots put forward as namesakes.
An official 'Bridge Naming Advisory Panel' painstakingly picked through the list and whittled it down to a shortlist of five: Caledonia Bridge, Firth of Forth Crossing, Queensferry Crossing, Saltire crossing, and St Margaret's Crossing.
Each of the names has Scottish or local connections.
Saint Margaret, for example, was a queen consort of Scotland, born in 1045, who established a ferry to carry pilgrims travelling to St Andrews and Dunfermline.
But is the name so important?
Bridge naming has been a source of some contention in the past.
In 2007, two local authorities clashed over the naming of a new bridge over the Forth at Kincardine.
Clackmannanshire Council wanted the bridge named "Clackmannanshire Bridge" after itself, and launched a publicity campaign.
Meanwhile, Fife Council lobbied Scottish ministers for the name "Kingdom Bridge".
After a public consultation, Transport Scotland finally ruled that the £120m crossing would be known as "Clackmannanshire Bridge".
Mixed reaction
Transport Minister Keith Brown is hoping to avoid controversy by leaving it to the public to decide the name of the new Forth bridge.
"We are determined this project will leave a positive legacy," he said.
The shortlisted names have received a mixed reaction, however.
Commenting on the news, some BBC news online readers were disappointed that only one of the five options had the "bridge" in the name.
"Sorry but thought we were naming a structure not a crossing point," said one reader.
"Can't think of many famous "crossings" but can think of quite a few bridges."
Others pointed out that while naming the bridge was one thing, making the name stick was another.
In Glasgow, two recent bridges across the river - the Clyde Arc bridge and the Tradeston pedestrian Bridge - have both become more commonly known by their nicknames: the "Squinty Bridge" and the "Squiggly Bridge"
"You can call it what you want but I'm pretty sure the majority of people will still call it the Forth Road Bridge - because its a road bridge that crosses the Forth," said one reader.
Voting will run until 7 June.