First phase of £113m Scottish Water pipes upgrade completed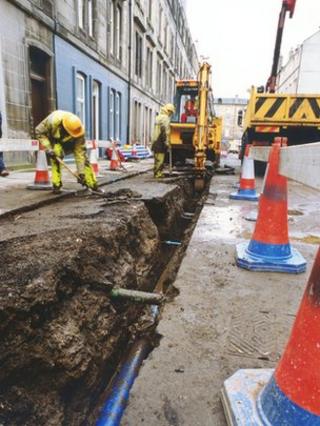 The first phase of Scotland's biggest-ever water mains renewal project has been completed.
The scheme, which began two years ago, has so far seen about 1,800 miles of pipes upgraded to satisfy strict water quality standards.
When completed, the £113m project will extend over more than 2,600 miles - the distance from Edinburgh to Mali.
Scottish Water said its teams had been tested by "difficult environments and unusual discoveries".
Among these was the unearthing of a 3,000-year-old Beaker burial ground in Duns in the Borders.
Workers also had the challenge of negotiating the Rocks of Solitude ravine by Edzell in Angus.
Programme manager Tom Davidson said: "The work has involved flushing, re-lining and replacing water mains all over Scotland to ensure optimum water quality, reduce leakage and also reduce the likelihood of burst water pipes.
"Some water mains in Scotland have been in place for decades and require upgrading to ensure they deliver maximum water quality and security of water supply.
"Water main networks are comparable to structures like the Forth bridges and therefore require constant maintenance to ensure they perform as designed."
'Enhanced supply'
Water quality in Scotland is at its highest ever level, according to Scottish Water, which says 99.88% of supplies taken from customer taps met the required standards in 2011.
Water leakage reduced by 44% since 2002/03 and is continuing to fall, a spokesman said.
Deputy First Minister and Cabinet Secretary for Infrastructure Nicola Sturgeon said: "The extensive reach of the scheme, stretching from Shetland to the Scottish Borders, means households throughout the country are now benefiting from an enhanced water supply while local areas have been boosted by the support of extra jobs.
"Scotland's water quality is at its highest level ever and we are striving to improve on this through the renewal and maintenance scheme which forms part of the Scottish government's wider £2.5bn water and waste services investment."