New exam materials for Scots fourth year pupils published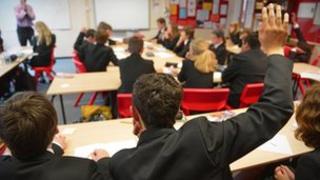 More support materials for new qualifications being introduced in Scottish secondary schools have been published.
From June, fourth year pupils will study the National 4 and 5 courses which are replacing Standard Grades.
Some teachers had expressed concern that they did not have enough resources to plan new lessons.
Government agency Education Scotland has produced additional web-based course materials and guidance.
The move from Standard Grades to National 4 and 5 qualifications is part of the Curriculum for Excellence (CfE), major educational reform aimed at providing a wider, more flexible range of subjects and courses for children and young people aged three to 18.
The new courses - which will see pupils study up to eight subjects from fourth year onwards - will place greater emphasis on developing skills, with pupils encouraged to achieve a deeper understanding of subjects, rather than "racing" through levels of qualifications.
'Tools for the job'
The new system is designed to cater for pupils of all levels of ability - with some young people spending up to two years studying for a National 4 qualification while others will bypass the National 4 and 5s and begin studying for Highers in fourth year.
Teaching unions had raised concerns that staff did not have adequate resources and materials to begin planning their new lessons.
Education Scotland and the Scottish Qualifications Authority (SQA) have now issued the latest tranche of materials to support the new qualifications.
The information published consists of web-based materials and covers all 95 courses.
In the past 12 months, SQA have also published nearly 1,000 subject assessment support documents, including, specimen question papers, coursework information and unit assessment support packs.
Dr Bill Maxwell, chief executive of Education Scotland, said: "All of this material has been developed by teachers for teachers.
"To bring this package of material together, we have worked with a wide range of very skilled and experienced educators from across Scotland - people who are teaching pupils in schools and colleges, every day.
"This rich collection of support materials will be invaluable for schools and I am very pleased that many education professionals are already making good use of the resources we have been issuing progressively over the last few months."
Scotland's largest teaching union, the EIS has welcomed the publication of the new resources.
It said it would encourage teachers as they prepared for a busy next few months.
General secretary Larry Flanagan said: "Teachers across Scotland will be encouraged by the availability of these new resources which will support the ongoing process of CfE implementation in our schools.
"The EIS also welcomes the commitment from Education Scotland to meet the identified resource needs to support CfE delivery across the country.
"Schools are working hard to deliver CfE, and these new materials will be valuable tools to allow Scotland's teachers to get on with this essential job."