More children in Scotland losing parents to drug deaths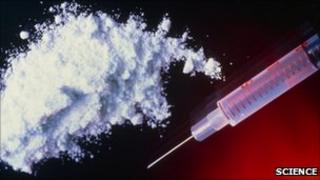 More than 300 children in Scotland lost a parent or parental figure to a drug-related death in 2011, according to new figures.
The National Drug-related Deaths Database (NDRDD) was set up to look at the nature and social circumstances of those whose deaths are linked to drugs.
Its latest report found almost half of drug deaths in Scotland in 2011 were of parents or parental figures.
The number of children left without a parent rose from 283 in 2010 to 331.
Figures published last August showed there were 584 drug-related deaths across Scotland in 2011.
The NDRDD looked at 438 of these cases - the others were not included as the relevant information was not available.
In 189 of the cases (44.5%), where it was known, the person who died was a parent or parental figure to one or more children.
'Hardened drug users'
The report also revealed that more than three quarters of the drug-related deaths in 2011 were male, with about 53% living in the most deprived areas of Scotland.
The 35 to 44 years age group accounted for the highest proportion of deaths, at 38%.
The research also looked at the previous history of drug use among those who had died.
Almost two thirds had been in contact with a drug treatment service at some point in their lives.
The report included data on drugs "present" in the body and drugs "implicated" in the death.
The drug most frequently found to be present in the body at death was diazepam. In 97% of cases there was more than one drug present.
The drug most frequently implicated in the death was methadone, followed by heroin/morphine, diazepam and alcohol.
In the majority of cases where methadone was found, the individual was not being prescribed the drug at the time of death.
Scottish Labour said the drug deaths statistics were "deeply worrying".
Lewis Macdonald MSP added: "It is important to remember that these figures represent a death and in almost half the cases, it is a parent who has died.
"The figures also show that methadone is being abused by hardened drug users. We need to crack down on the abuse of methadone in our communities."
'Long legacy'
The Conservatives also pointed to the prevalence of methadone in the deaths of drug users.
Tory chief whip John Lamont MSP said: "It's bad enough that people are being parked on methadone with no hope of recovery, but now we are seeing it playing an active role in the deaths of hundreds of people.
"The Scottish government has got to get a grip on this spiralling problem before hundreds more children lose parents under these needless and tragic circumstances."
The Scottish government said it was dealing with "a long legacy of drug use" and had invested "record amounts" in frontline services to help people recover.
A spokeswoman added: "Our drugs strategy - backed by cross-party support - aims to ensure that those who need treatment, get it.
"That strategy is clear that substitute prescribing such as methadone, is one of a number of methods of treatment and care that can be offered to individuals."
The government also said it had national guidance in place to protect all children at risk from problematic parental alcohol or drug use.