Call for 'value for money' Scottish public sector pay-offs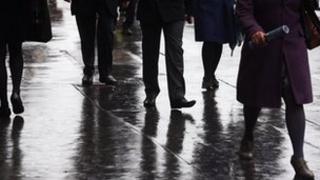 About 14,000 public sector employees have taken voluntary redundancy or early retirement in the past two years in Scotland at a cost of about £550m.
According to Audit Scotland, 40% of the pay-off fund was shared by just 1,200 high earners in the sector, including government, NHS, police and fire.
The spending watchdog said there was evidence that these early departure schemes had led to savings.
However, it called for greater scrutiny to ensure they offered value for money.
The report, Managing early departures from the Scottish public sector, said most bodies dealt with the system well, but there were major differences in the monitoring and transparency of costs.
The Scottish government said its policy of no compulsory redundancy and pay restraint was working.
Since 2009, 40,000 people left the sector, the report said.
Early departures accounted for about half, with the rest retiring due to age or ill health, or moving to other jobs.
'Paying the price'
In response to the report, Unison said job cuts were devastating local communities and should be reversed to help the economy grow.
The union's Scottish secretary, Mike Kirby, said: "While the Audit Scotland report makes some positive noises about the way public bodies manage workforce change, the reality is that our precious public services are paying the price of austerity economics."
Labour MSP Ken Macintosh claimed the government was spending 10-times as much "pushing" people out of work than it was on finding people jobs.
He said: "Earlier this year Labour uncovered the hundreds of millions that were being spent on public sector severance schemes including compulsory redundancies despite promises from the SNP that they would not be used here.
"Our research found that more than 1,200 people were forced out of their job at a cost of £7.5m. This report from Audit Scotland reveals that the picture is even worse."
Scottish Conservative MSP Murdo Fraser said the efficiency savings were necessary, but he said it was vital that public sector pay-offs were not too generous.
He said: "Of course contracts have to be adhered to, but the public do wonder if these savings are being undermined by organisations throwing too much at golden goodbyes."
Silence whistleblowers
The figures for the years 2010/11 and 2011/12 came amid concerns that generous early release packages were being used to silence whistleblowers, reward executives and sweeten job offers.
The Audit Scotland report referred to high profile public sectors pay-offs, including a former chief executive of West Dunbartonshire Council, who was hired for five years but given a pension for nearly nine years' service.
It also raised concerns about retired staff returning to posts, and pointed to the case of Strathclyde Fire and Rescue chief fire officer Brian Sweeney.
The report flagged up moves by Dumfries and Galloway Council to place restrictions on the future recruitment of individuals who have accepted any form of early departure.
The spending watchdog said organisations should ensure that their packages did not cost more in the long run, did not deprive the organisation of vital staff, and did not unfairly deprive staff of their employment rights.
A Scottish government spokesman said voluntary exit schemes delivered significant savings with costs recouped within two years.
"As the Audit Scotland report highlights, many public bodies have decided to run voluntary exit schemes as one way of reducing costs - at a time when UK government has cut the Scottish budget by almost 9% in real terms over four years.
"Our policy of no compulsory redundancy and pay restraint, particularly for higher earners, means we can provide staff with employment security at an economically challenging time, while delivering the savings necessary to live within the tight financial settlement we have received from Westminster."