Scotland takes on the Venice biennale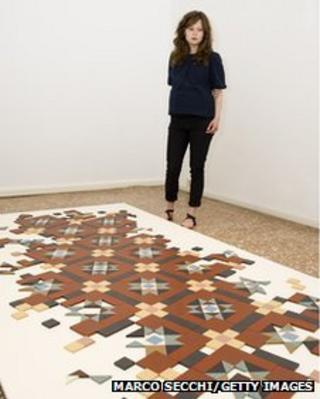 The Venice Biennale is a major contemporary art exhibition that takes place every two years. The UK has long been represented by one of the pavilions but for the past decade Scotland has been running its own exhibitions.
On the top floor of the 16th century Palazzo Pisani in Venice, is a little bit of art that would be recognised by any tenement-dwelling Glaswegian.
Artist Corin Sworn's ceramic sculpture imitates the mosaic of her floor in Glasgow's west end. But look closely and the familiar pattern begins to dissolve and disorientate.
Sworn's artwork is part of the Scotland+Venice exhibition at the 55th Venice biennale.
Along with fellow Glasgow artists Hayley Tompkins and Duncan Campbell she has been selected to show her work at this most prestigious of showcases.
"One of the things that struck me in Venice were the mosaics, on the exteriors of buildings and in churches," she says.
"Some of the work I made for this exhibition involved a trip to Peru and I was impressed with the tiles there.
"When I came home to my apartment in Glasgow I suddenly noticed the mosaic tiles on my own floor that I had somehow never seen before."
Beautiful water-bound Venice has always been a place where trade winds and cultures met.
The excitement at Biennale time is palpable.
What Cannes is to the film world, or the Olympics to sport, Venice is to contemporary art.
It's a global showcase, where everyone from established powers to emerging nations wants to participate.
Even the Holy See has an exhibition this year.
But for artists and art professionals it is also a place of camaraderie and fellowship.
"It feels great to be here," says Sworn.
"It feels like you get to participate in a conversation with an enormous number of people, I think that's exciting.
"I'm really looking forward to seeing all of these exhibitions by artists, some of whom I've heard of and some who will be completely new to me."
The biennale opens to the public on 1 June but in the days before there is an onslaught of art professionals and curators who will make up the first wave of visitors.
With the exhibition ready to be unveiled to the world, Katrina Brown, director of Glasgow's Common Guild, who has curated the exhibition, has even found time to cook a plate of delicious gnocchi with sage and butter for lunch for the artists and the exhibition team.
It feels like a brief moment of respite, but the atmosphere is calm and confident.
The Venice biennale was first launched in 1895 and it has only seen a hiatus at time of war.
Scots have been represented in exhibitions, in one way or another, since the era of Charles Rennie Mackintosh.
Since 2003, Scotland has a distinctive presence in the city, each exhibition selected and managed by different art curators.
"The Venice biennale has been going for over 100 years," says Brown.
"And it remains one of the most significant contemporary art events in the calendar, not just because of the scale of the event itself but because of the increasing number of people who come form all over the world, whether that is professionals, critics, curators, other artists, dealers and collectors as well as the international visitors over the following six months."
The show will be up until November but what will the legacy be?
"I hope it engenders lots of opportunities for the artists. I hope it increases awareness of their work and the contemporary art scene in Scotland," says Brown.
Artists who have shown with Scotland in the past decade include those who went on to Turner Prize nominations such as Jim Lambie, Cathy Wilkes and Lucy Skaer and Turner Prize winners Martin Boyce and Simon Starling.
The project is a partnership between the British Council, Creative Scotland and the National Galleries of Scotland.
There is also a British Pavilion, this year showing Jeremy Deller, the London artist who wowed Glasgow with his inflatable Stonehenge on Glasgow Green in April 2012.
What's striking about this year's presentation is its mature reflection on a complicated world and the way it looks outwards from Scotland while still remaining rooted.
Painter Hayley Tompkins has brought together photographs and poured acrylic paintings, which are arranged on the floor rather than the walls.
Sworn, born in London, was brought up in Canada.
As well as her sculpture, her film The Foxes reflects on the memories and archive of her father an anthropologist who lived with a rural community in Peru.
Campbell was born in Dublin.
His film, It for Others, is a reflection on a remarkable historical documentary about African art made by the French filmmakers Chris Marker and Alain Resnais in 1953.
It also includes a stunning dance sequence created with choreographer Michael Clark.
All three artists have made permanent homes in Glasgow, home to one of the most dynamic art scenes in Europe, after coming to the Glasgow School of Art.
"The nature of the world, let alone the art word is that people are much more mobile," Brown explains.
"All three artists in this show came to Glasgow to study but have decided to stay because it provides a really supportive context for them to make work. It's where we live, where we work that makes us who we are not necessarily where was are born."
This is the third Biennale in a row that Scotland has used the Palazzo Pisani.
Like everywhere in Venice, the grandeur is charming because it is also somewhat faded.
Out the windows, next to the Palazzo, is a building site.
As well as passing gondolas, are the boats that deliver household goods or carry scaffolding.
For all the glitz this is still a working city.
The information assistants for the exhibition are students from five Scottish academic institutions.
They are the artists and arts organisers of the future.
Ten years ago, among those looking after the show was Kitty Anderson.
She is now, a curator at the Common Guild working on this show.
Katrina Brown says it is "exhilarating and a relief" to take the exhibition to an audience.
"It's always nerve-wracking to make something public that essentially has been a secret for so long," she says.
But we have felt ready for the past few weeks to open the door.
"In Venice that door, like the mosaic tiles that inspired Corin Sworn, is loaded with history and rather ornate."
Scotland+Venice is at the Palazzo Pisani (S.Marina) until 24 November 2013.