Smoke-free entrances and wardens at Glasgow hospitals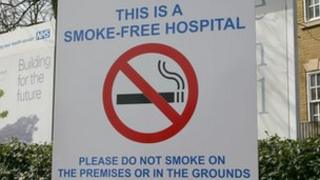 Scotland's largest health board is launching a zero tolerance crackdown on smoking in hospital grounds.
NHS Greater Glasgow and Clyde has rebranded its hospital entrances with bright red wall and ground markings and giant posters which it says will be hard for smokers to ignore.
It is also introducing smoke-free wardens to patrol its sites.
The Scottish government has previously said it plans to ban smoking on NHS grounds by 2015.
The new hospital entrances, which will be unveiled later at Glasgow Royal Infirmary (GRI), are part of the health board's "Smoking on hospital grounds - we're all sick of it" campaign.
Dr Linda de Caestecker, director of public health, said: "Our staff, patients and visitors are rightly fed up with having to 'run the gauntlet' of getting through plumes of smoke when entering our hospital sites.
"In fact on the GRI site staff even submitted a petition calling for more to be done to stop people smoking on our grounds.
"In response we are launching this ambitious campaign with the very clear and simple message that smoking on our grounds and at our entrances simply will not be tolerated."
Under plans announced by the Scottish government earlier this year, NHS boards will be required to implement and enforce smoke-free policies across their grounds by March 2015.
Patients, visitors and staff would no longer be able to smoke anywhere on NHS sites, with people offered advice and support to help them not to smoke during hospital stays and visits.