Care Inspectorate praises child protection improvements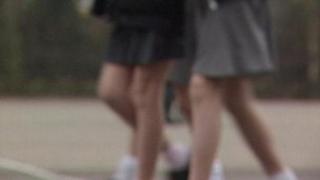 A major report into Scottish child protection services says authorities are getting better at protecting at-risk children from abuse and neglect.
The Care Inspectorate report, based on a three-year inspection of all 32 local authorities, said social workers, teachers and police now work together and share information.
But the report also identified some areas where improvement is needed.
These include identifying children who are at risk of neglect.
As well as looking at the work of professionals charged with protecting children, inspectors assessed seven themes related to keeping children safe.
Children who go missing, management of sex offenders, and internet safety were among the areas assessed.
They found that co-operation to protect children was strong, and staff were confident about raising concerns.
However, inspectors found that staff often struggled to identify where children were at risk of neglect.
They pointed out that the impact of neglectful parenting on individual children was often understood only with hindsight.
'Significant progress'
Annette Bruton, Care Inspectorate chief executive, said: "Child protection is a difficult and sensitive area but it is everybody's business to make sure that our children are safe.
"Abuse, neglect and exploitation often happen in secret, so people need to know that different professionals are all working together to spot signs and minimise risk.
"No system alone can guarantee that tragedy will never strike, or exploitation will never occur, but there is encouraging news from our report."
The report said particular challenges lay in assessing, reducing and managing risks where parents were misusing drugs and alcohol.
They recommended faster intervention when parents could not meet their children's needs.
Children's minister Aileen Campbell said: "I want Scotland to be the best place in the world for children to grow up and I am pleased to see from this report on the second round of joint inspections that significant progress has been made in child protection.
"However, we cannot be complacent, we all have a role to play in keeping children safe and progress must continue to be made on this important matter."
The report is due to be handed to the children's minister.