Rockall adventurer Nick Hancock unable to get on rock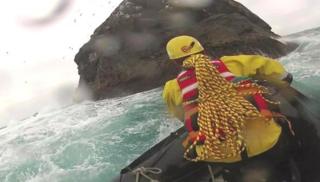 Adventurer Nick Hancock's bid break the record for living alone on Rockall suffered a major setback when he was unable to land on the Atlantic rock.
Hancock, from Ratho, near Edinburgh, intends to spend 60 days on the remote sea rock, which is just 30m (100ft) wide and 21m (70ft) high.
He set off on Thursday for the 15-hour trip from South Harris.
Heavy seas meant he was unable to land and he retreated to St Kilda but is now thought to be heading back to Harris.
The crew of his support ship Orca III had been expecting heavy seas but swells as high as 8m meant Hancock was unable to get to the rock when they arrived in the early hours of Friday.
After a 12-hour detour to St Kilda, the Orca III is believed to be heading back to Harris.
Rockall, an eroded volcano, lies 260 miles west of the Outer Hebrides.
Mr Hancock had taken all food and water with him and planned to live in a 150kg (23st) shelter bolted to the rock in his bid to break the current 42-day record.
The father-of-one took nearly half a tonne of equipment for his two-month expedition.
That includes the custom-made pod, nicknamed Rockpod, which he built himself.
He plans to haul the pod on to Rockall using a diesel-powered winch.
Before leaving, he told BBC Scotland: "It's a converted water bowser which has been fitted with hatches and fixing points so I can fix it to the rock.
"I have a daily routine of exercises and safety checks, and I'm also going to be carrying out some sample collections for St Andrew's University and the Hunterian Museum."
Marathon runner and climber Mr Hancock said bad weather could see him stuck in the pod for three or four days at a time.
Record breakers
The earliest recorded landing on Rockall was believed to be in 1810, by an officer called Basil Hall from the HMS Endymion.
In the past, Ireland, Iceland and Denmark have claimed the rock and the possible oil and gas reserves surrounding it.
The UK annexed Rockall in 1955, but its ownership is disputed.
The record for longest occupation was set in 1997 by three environment campaigners from Greenpeace.
They lived on Rockall for 42 days and renamed it Waveland in protest at exploration of new oil and gas reserves in the surrounding seabed.
As well as attempting to break the occupation record, Mr Hancock aims to raise money for the charity Help for Heroes, which supports injured military personnel.