Rockall Nick abandons record attempt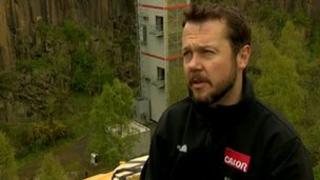 Scottish adventurer Nick Hancock has said he will not be returning to Rockall this year.
His bid to break the record for living alone on the tiny, remote Atlantic rock ended before it began on Friday when heavy seas stopped him leaving his boat.
Hancock was forced to make the 15-hour return trip to Leverburgh on Harris.
On Sunday night, he tweeted: "Sadly now unlikely 2nd attempt on #RockallSolo this year."
Hancock, from Ratho near Edinburgh, said he was glad to have raised some money for the charity Help for Heroes.
He set off on Thursday morning for Rockall, an eroded volcano, which lies 260 miles west of the Outer Hebrides.
His intention was to spend 60 days on the remote sea rock, which is just 30m (100ft) wide and 21m (70ft) high.
Hancock had taken all food and water with him and planned to live in a 150kg (23st) shelter bolted to the rock in his bid to break the current 42-day record.
However, when he arrived in the early hours of Friday, the swell around the rock made it impossible for Hancock to safely scramble on.