Several local radio stations to share all programmes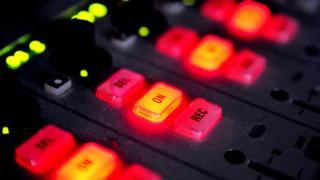 Several medium wave local radio stations across Scotland are to start sharing all their programmes for the first time.
The stations - including Clyde 2 and Forth 2 - are to broadcast the same breakfast programme from July. It will be hosted by DJ Robin Galloway.
For the past four years, the stations have shared programmes at other times of the day.
However, owner Bauer is stressing local news and travel reports will remain.
The other stations affected by the change are Tay AM in Dundee, Northsound 2 in Aberdeen and Westsound in Ayrshire.
Their sister stations on FM are not affected by the changes.
For several years, it has been becoming increasingly common for commercial local radio stations across Britain to share the same DJs but retain some local news and information.
Real Radio and Smooth Radio in central Scotland currently broadcast the same programmes as their sister stations in other parts of the UK for much of the day.
Community stations
Bauer's FM stations - such as Clyde 1 and Northsound 1 - share some programmes in the evenings and weekends.
However, some argue that Bauer's medium wave stations were the direct successors to the original independent local radio stations established across Scotland in the 70s and early 80s such as Radio Clyde and Radio Forth.
In the late 80s and early 90s these stations started to provide distinct services on medium wave and FM. Medium wave stations like Clyde 2 continued to provide a range of music, chat and information while their sister stations on FM focused almost exclusively on pop music.
Some critics have argued that professional local radio in Scotland is in decline. They claim the "legacy" stations owned by Bauer are increasingly becoming Scottish national stations in all but name, while the newer rivals which have gone on the air in recent years increasingly form part of a UK-wide network.
Meanwhile, they claim genuinely local broadcasting is increasingly being provided only by community stations which are often run by volunteers.