Risk of high levels of radon gas in 'more' parts of Scotland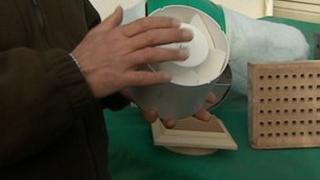 More parts of Scotland are considered at risk of high levels of radon than previously thought, according to the Health Protection Agency.
Seven council areas in the central belt, in the past not thought to have significant levels, are to be tested.
Radon is a naturally-occurring gas but, being radioactive, it can cause cancer.
The agency has published a new radon map of Scotland using past tests and geological information to identify areas with potentially high levels.
Edinburgh, Mid, East and West Lothian, Falkirk, East Renfrewshire and South Lanarkshire are now classified as "Radon Affected Areas".
Thousands of residents will be offered testing later this month.
Precautionary testing
Lesley Hinds, Edinburgh City Council's environment convener, said: "Radon is a naturally occurring gas that, when found in high levels, can be potentially harmful to health.
"Public Health England has been commissioned by the Scottish government to identify and reduce levels of radon in Edinburgh and the council is assisting them as they carry out their precautionary testing programme.
"Letters will soon be sent to a small number of residents living in areas where levels of radon may be higher, to let them know about the free testing kit available.
"People shouldn't be alarmed about this as even if high levels are found in their homes, this can often be remedied by taking relatively simple steps."
Radon is a natural radioactive gas that comes from minute amounts of uranium found in rock and soil.
Although levels are generally low, it is believed to lead to more than 1,000 deaths across Britain each year.
Work has already been done in other parts of Scotland, including the Highlands and Aberdeenshire where the radon risk was considered greatest.
The Health Protection Agency said the gas was generally only harmful if it was allowed to accumulate in homes. The risks can be reduced by increased ventilation.