David Strang appointed as new chief inspector of prisons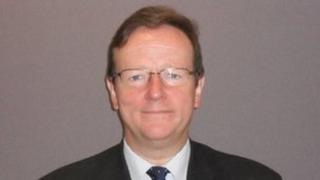 A former police chief constable has been named as Scotland's next chief inspector of prisons.
David Strang served as chief constable for Lothian and Borders Police for six years until it was amalgamated into the new single force earlier this year.
He had previously held the top job with Dumfries and Galloway Constabulary.
Mr Strang will take over the role of examining prisoner treatment and conditions at Scotland's 16 prisons later this month.
Justice Secretary Kenny MacAskill said Mr Strang had extensive expertise in the criminal justice system and in measures to reduce reoffending.
He added: "I should like to thank Brigadier Hugh Monro for his significant personal contribution during his four-year tenure as chief inspector. He has served with distinction and has, without doubt, helped shift the terms of the national discussion about prisons in his time in office.
"I have no doubt David Strang will bring a high degree of expertise and commitment to this role, ensuring that our prison estate remains a safe environment for staff and prisoners with a real focus on reducing reoffending."
Mr Strang said: "Prisons play a very important part in an effective criminal justice system. I look forward to the challenges which lie ahead and to making a positive contribution to justice in Scotland."
He has been appointed for a fixed term of three years, with the possibility of extension. The post was advertised with a salary in the region of £65,000.