Rory Bremner: Putting satire in the Saltire
Impressionist Rory Bremner has been one of Britain's best-known satirists for two decades but he has never before turned his attention to the country of his birth.
Bremner was born in Edinburgh and has a Scottish father. His early years were spent at an independent day school in Scotland's capital.
"Being a great believer in Scottish tradition, I followed the example of my fellow countrymen and moved to England," Bremner tells an audience gathered to hear his first stand-up routine dedicated to Scottish politics.
"I spent the next 30-odd years reminding English people that we invented the telephone, the fax machine, the flush toilet, gin and tonic (it's true, look on Wikipedia), and what did we get back? Berwick Rangers and the last 20 minutes of Newsnight."
Bremner, 52, admits that, despite dissecting the political manoeuvring at Westminster for years, he knows nothing about Scottish politics.
And with the independence referendum just over a year away, he was keen to find out if he could put together a stand-up routine on the subject.
"Scotland needs comedy more than ever," he says.
"With the independence debate, finally after 300 years, reaching room temperature."
Last month, Glaswegian comedian Susan Calman found the temperature of the debate had risen more than Bremner's estimation when her satirical contribution to a BBC radio show triggered an onslaught of online abuse.
But Bremner is determined to go back to basics in his bid to find out what makes Scottish politics tick, and that leads him back to the man who kept him in satirical work for many years - former Labour prime minister Tony Blair.
Before Blair's 1997 election victory, his shadow Scottish Secretary George Robertson claimed that devolution would kill Scottish Nationalism "stone dead" - not a prophecy which has so far proved very accurate, says Bremner.
He says: "Like everything else with New Labour, it lasted about 10 years. Now everything is focused on the vote for independence.
"The idea is that the people of Scotland should elect a government that is voted for by the majority of the population.
"If that works, they will try it at Westminster as well."
The beating heart of Scottish politics is the "impressive, if controversial" £400m parliament building at Holyrood, designed by Catalan architect Enric Miralles.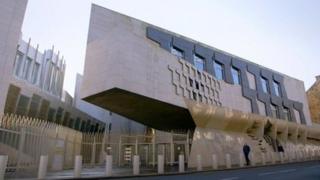 "It feels very European," says Bremner.
"By which I mean it is modern, different, exciting and massively over budget.
"By the time it opened it had already got its own public inquiry and never got to see Scotland's first two First Ministers."
Former SNP sweetheart turned fiercely independent MSP Margo Macdonald was a harsh critic of the fiasco which saw the Holyrood project cost about 10 times its original estimate and go three years behind schedule.
But she says the building has grown on her - a little.
She tells Bremner: "You get used to everything except hanging, as my mother used to say.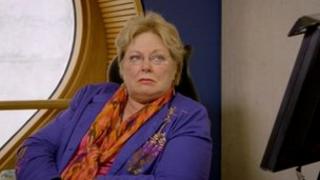 "I have got used to it and there are parts I like, but it's not really a very functional building," she says.
And what of the politicians that populate Holyrood?
Scottish stand-up Paul Sneddon tells Bremner that he thought devolution and the opening of the Scottish Parliament in 1999 would bring him loads of new people to satirise.
"Then I found out it was pointless because most people in the audience would think 'who the hell are you talking about?'," he says.
Daily Telegraph Scottish editor Alan Cochrane says Holyrood is a "bitter arena".
He says: "There's nothing like the camaraderie you have in Westminster.
"I worked in Westminster for a long time and they were often pals across the despatch box.
"That ain't the case here. Especially not between the Nationalists and Labour. They really do loathe each other with a passion. It's great stuff."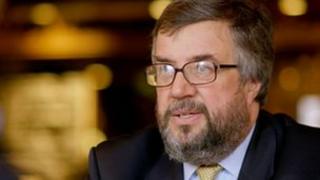 Cochrane tells Bremner that Scottish politicians are "exactly what they say on the tin".
"They are not like David Cameron - a rich kid from Eton who pretends he's ordinary middle class," Cochrane says.
"They are all self-made. There is very little public school ethos in Scottish politics and the women are 'hard as nails'."
There are more women in the Scottish Parliament than at Westminster, which could be something to do with the initial aim to make Holyrood a place which would be more family-friendly, keeping more civilised hours.
Comedy writer Steven Dick relates a scandalous suggestion that Scottish Labour leader Johann Lamont moved from teaching to politics because it was the only place where she would get more holidays.
Paul Sneddon says there have been plenty of political scandals in Scotland but some have been laughably small scale.
"We had Piegate," he says.
"Frank McAveety, who was the sport and culture minister, didn't attend parliamentary questions because he was in the canteen eating a pie - but claimed he was 'dealing with some administration'."
Bremner says that, apart from Alex Salmond - "the biggest fish in the pond" - many of the Scottish politicians people have heard of seem to be the ones who have "left home and joined the circus" in London.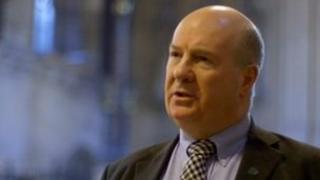 He says: "For decades two of our biggest exports to England were whisky and Scottish MPs - or, in the case of Charles Kennedy, both."
One of the current crop of Scottish MPs, Ian Davidson, fights fire with fire when Bremner asks why there is no political comedy in Scotland.
The Labour MP for Glasgow South West tells Wellington School-educated Bremner: "We don't want any stuck-up public schoolboys coming north and mocking us."
He tells Bremner: "The fact that you are Scottish may allow you to get away with it.
"But presumably you are part of that tribe where an expensive education was spent making sure you did not sound Scottish.
"The people would be quite happy to be mocked by their own."
But bruising encounters with Labour MPs aside, Bremner concludes that it is technically possible to make political comedy in Scotland.
He leaves his audience at the Assembly Hall on the Mound in Edinburgh with a final thought that paraphrases former Liberal Democrat leader David Steel: "Go back to your constituencies and prepare for comedy."
Rory Goes To Holyrood will be shown on BBC Two Scotland at 21:00 on Thursday 13 June and will also be available on the BBC iplayer.