Festival season: What are the benefits?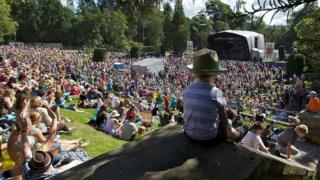 Even though they can often be mired in mud, as the summer progresses most weekends will bring events from the very biggest, such as T in the Park, to the much more "boutique" events like the Tiree Music Festival. How have all these grown up and what benefits can they bring locally?
"When we started Skerryvore up, the summers on Tiree were just electric up there," says Daniel Gillespie, the band's accordion player.
"There seemed to be so many people on the island, whether they had Tiree connections or they were just holidaymakers. We could be playing seven nights a week in the local pub and it would be just jumping."
It was a wish to recreate that summer feeling, combined with the band's experience of playing festivals around the world, that put the idea in his and a friend's mind of setting up a festival on the island.
The first one was held in 2010 and this year there could be up to 1,500 people - this on an island with a population in the hundreds.
"There's no doubt we can't stand toe-to-toe with the line-up of Belladrum, or T in the Park or Wickerman, we just don't have the budget to bring those acts here," explains Mr Gillespie.
"What we can offer, that other people don't have, is an island adventure - stunning white-sand beaches. We select bands that are going to make it a good party atmosphere.
"We also encourage people to spend as much time as possible on Tiree and look around the island as well.
"About 90-odd% come by the ferries, which is a drive to Oban and a four-hour sailing, out through the sound of Mull to Tiree. That in itself is an adventure."
He says that last year an independent economic survey of the festival suggested the impact for the island and surrounding region was about £330,000.
Economic issues
Twenty years ago there were very few festivals in Scotland, now there are probably hundreds and the UK in general appears to have developed a niche for hosting these outdoor events, often in less than ideal weather conditions.
"People are tending to stay more at home at the moment, because of economic issues and also because of this vast array of things for people to do on their doorstep," says Dr Jane Ali-Knight, director of the Edinburgh Institute: Festivals, Events and Tourism at Edinburgh Napier University.
She adds: "For the younger generations, I think it's almost a rite of passage that you have to attend these sort of summer festivals."
So what's the appeal? In general, live music is doing well.
"There's no question that the growth in the music scene generally is about live performance," says music presenter Tom Morton, who went to his first festival when he was a student.
"If you compare the price of tickets even for an indoor concert to what they were 20 or 30 years ago, they're vastly increased and that's because there is a huge demand."
But with so many festivals taking place across the UK and money tight for many people, can they all survive or are there just too many of them competing for support and audiences?
"If they've done their research properly and their feasibility, hopefully not," says Dr Ali-Knight.
"But my worry is that, is there the market there to sustain an ever-growing number of festivals being created in Scotland?
"I think you have to establish a niche, whether that niche is related the location, Rock Ness being a good example, so things that are looking at being more creative rather than a one-size-fits-all approach."
Across Scotland, festival organisers are putting the finishing touches to their events.
Later in the summer, near Beauly, the Belladrum Tartan Heart Festival takes place in the same week as the Black Isle Show, the local farming and agriculture gathering.
Are they different or, in fact, part of a similar, more general tradition?
"I was wondering the other day whether these smaller festivals, these boutique ones, have become the sort of 21st Century version of the county show and that people will continue to support them because that's how they like to spend their time for two or three days a year," says Joe Gibbs, who started the Belladrum festival.
"I mean a lot of people who come to Belladrum, they hardly manage to get to a stage because they bump into so many friends there."
He adds that smaller festivals are very much rooted in their communities.
His love of festivals was born out of youthful festival-going to places like Glastonbury, where he particularly enjoyed the fact that lots of children attended. He has tried to recreate something of that atmosphere at Belladrum.
"The awful thing is you spend 362 days a year putting together a party for nearly 16,000," he adds.
"And you spend those three days sitting in a cabin trying to deal with any problems, whatever comes up and you're not really there to enjoy the party.
"But generally at around the time of the headliners, I manage to get out to the top of the terraces and it gives you an incredible buzz to look down on all the bobbing lights, the huge crowd of people and to see everyone having a wonderful time.
"You never, never get a better buzz than that."