Charities in Scottish carer support plea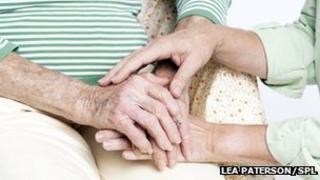 A group of charities has called for more support to be given to people when they take on a caring role.
It follows a survey that suggested 75% of carers were unprepared for the impact of starting out as a carer.
The report from Carers Week said they were being "woefully let down by a lack of support".
The charities urged GPs, health and social care staff and the Scottish government to ensure more support was given from day one.
The report, entitled Prepared to Care?, was released to coincide with the launch of Carers Week 2013.
It was compiled by a partnership of national charities including Age UK, Carers Trust, Carers UK, Macmillan Cancer Support, Marie Curie Cancer Care, MS Society and Parkinson's UK.
The survey of more than 2,100 carers found 81% said they were not aware of the support available, while 35% believed they were given the wrong advice about the support on offer.
It also found carers often struggled to balance work and their caring responsibilities, with 45% saying they had to give up work.
Caring impact
More than 60% of carers said they had experienced depression, while 92% reported that they felt more stressed because of their caring role.
The survey also looked at the strain that caring can put on people's relationships.
A total of 52% of respondents had experienced difficulties in their relationship with their partner and 61% said they had found it difficult to maintain friendships.
Estimates put the total number of carers in Scotland at more than 500,000, with 500 people taking on a new caring role every day.
Carers Scotland director Simon Hodgson said the impact of caring for a loved one or friend was an issue that could not be ignored.
"Becoming a carer can happen overnight and without information and guidance, carers can be left feeling isolated and alone," he said.
"The figures clearly show that carers aren't being offered support and if they are, it can often be wrong or not the full information."
'Huge consequences'
Mr Hodgson added: "The consequences for carers are huge, so it's vital that GPs, health and social care professionals and the government all play a role to ensure that carers are offered the support they deserve from day one."
Responding to the report, the Scottish government said it recognised the hard work that all carers undertook.
A spokesman added: "That is why we will continue in our efforts to make sure that support is in place for both adult and young carers.
"We are providing over £90m to support carers and young carers which includes over £3m for the national carers organisations, £13m for the voluntary sector Short Breaks Fund and nearly £29m to NHS boards to take forward their own carer strategies."
He added: "Our Scottish GP contract also outlines how we expect GPs to identify carers and young carers and ensure they get the support they need."