Countryside bodies warn dog walkers of cattle danger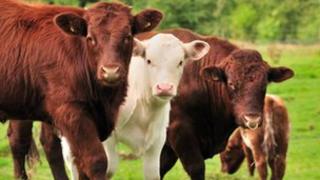 Dog walkers have been urged by countryside organisations to take care around cattle.
The warning follows the death of 65 year-old dog walker Mike Porter last month. He was trampled by a herd of cows.
Farmers said cattle may react aggressively to anything they see as a danger when they have dependent young calves.
They also highlight the dangers dogs pose to livestock.
Mr Porter, a former lecturer at Edinburgh University, was killed by cattle while walking dogs with his brother in Wiltshire.
NFU Scotland's Policy Manager Gemma Thomson said: "We want people, their children and their pets to get out into the Scottish countryside in a manner that is both enjoyable and safe.
"Cattle can be both very inquisitive and very protective of their calves and that makes their reaction to people walking with their dogs difficult to predict.
"There are a huge number of walks available to those wanting to get out and about with their dogs and taking time to pick a route that steers clear of cattle allows individuals, families and their pets to have a safe and pleasant time outdoors."
People and animals
Kirstin Guthrie of Scottish Natural Heritage said: "It's great to be outdoors with your dog and, in Scotland, we have some of the best access rights in the world - but we have to remember we share the outdoors with other people and animals.
"Be aware that your dog could be frightening cattle and, to keep both you and your pet safe, control your dog and stay out of fields with cattle where possible."
Anne Gray of Scottish Land & Estates added: "Cattle can be placid, if somewhat large and inquisitive, animals, but cows protecting young calves are much less tolerant of anything in their field that they might perceive as a threat.
"Dogs, no matter how well behaved, are a particular target in this respect.
"People should try to find alternative routes so as to avoid fields with cows and young calves, but if they do find themselves in a situation with aggressive cattle the best advice is to stay calm, let your dog go and leave by the shortest, quickest route."