Sniffer dog Sam retires on high after £6m cocaine find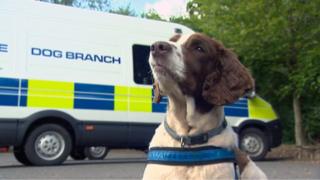 A self-employed courier from Northern Ireland has been jailed for seven years for smuggling ecstasy tablets.
Also hidden in his car of 40-year-old Scott Waters was £6m worth of cocaine, which had been missed by customs officials.
But a police search dog called Sam, called in by drugs squad officers, sniffed it out in seconds.
Now he has retired after he and his handler scooped a police award for their work in the seizure.
Sam, an eight-year-old Springer Spaniel, was called in after the arrest of Waters who was spotted taking a holdall containing ecstasy tablets from his car.
The vehicle was impounded and Sam searched the boot where two fire extinguishers were found to contain 10kg of cocaine with a street value of £6m.
'Ingenious'
Waters, who was arrested at his mother's home in Johnstone, Renfrewshire, was sentenced at the High Court in Glasgow following a trial to seven years imprisonment for being involved in the supply of drugs.
His trial was told using the extinguishers to hide the cocaine was "simple, but ingenious."
Sam's handler, Constable Janet Findlay of Police Scotland said they had been involved in an intelligence-led operation.
"On visual inspection and the initial physical inspection of both the fire extinguishers, there was absolutely nothing to indicate they had been tampered with at all.
"The seals were on, the paintwork was exactly as it should be.
"So it was a really good find by the dog."
Following the drugs case she received the award from the Chief Constable of Strathclyde Police for the best specialist team.
'Triple purpose'
But Sam, who had been donated to the police as a puppy, has now retired from active police service.
After just eight weeks' basic training, he had begun work as a sniffer dog.
He was a 'triple purpose' dog, able to sniff out cash, weapons and different types of drugs.
Waters was sentenced after being found guilty of the charges involving the ecstasy tablets - although the jury found the case involving the cocaine not proven.
Judge John Becket QC jailed him for seven years and told him he had been involved in a very sophisticated operation.
"There is no suitable alternative in order to deter you and others from dealing in Class A drugs other than a substantial sentence."