Tie ban 'resulted in scruffy doctors '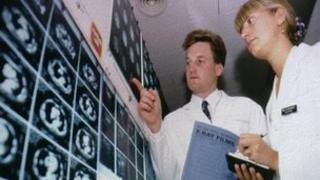 A consultant has criticised Scotland's "scruffy doctors" and called for a return to ties and white coats.
Stephanie Dancer, a microbiologist at Hairmyres Hospital in East Kilbride, said patients complained they did not know who the doctor was.
In 2008, the Scottish government dropped the white coat and banned ties in a bid to cut infection rates.
However, Ms Dancer said the role of the uniform in transmitting bacteria had been exaggerated.
There is no evidence that the white coat is a vehicle for the spread of infection, she said, whereas "hand-touch contact, airborne delivery, environmental reservoirs, and human carriage are all implicated in transmission".
She added that informal dress could project an image of poor personal hygiene and imply declining standards of cleanliness.
Ms Dancer also claimed it eroded the image of doctors as responsible and competent.
Blue tunics
The consultant warned that easy access to antibiotics was eroding the importance of basic hygiene over the past half century.
"Given that cleanliness is no longer a matter of life or death, it is no wonder our junior doctors dress the way they do," she said.
"Before the antibiotics run out, we need to revisit the hygiene values of the past".
The white coat was first introduced in the 19th Century in part to prevent cross-contamination.
However, 100 years later they fell out of favour. In 2007, national NHS guidance advised against wearing long-sleeves and ties during clinical work.
The Scottish government introduced a new NHS uniform in 2008, which included tunics in four shades of blue for clinical staff and tunics in green for support staff.
The uniforms were brought in to help tackle healthcare associated infections such as MRSA and C.difficile.