Stephen House and Paul Lawrie recognised in Queen's Birthday Honours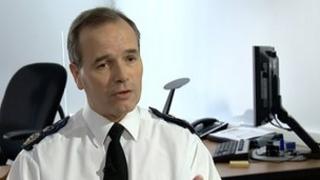 Scotland's top police officer has been knighted in the Queen's Birthday Honours.
Stephen House, the chief constable of Police Scotland, is recognised for services to law and order.
Aberdeen-born golfer Paul Lawrie, who won the Open Championship in 1999, receives an OBE for his voluntary service to golf.
Edinburgh Festival director Jonathon Mills is also knighted, and comic book writer Mark Millar receives an MBE.
A total of 103 people in Scotland are recognised for their achievements in the Birthday Honours - the highest number since 2003.
Justice Secretary Kenny MacAskill said the knighthood for Mr House recognised the "outstanding contribution" he had made to policing in Scotland.
'Very grateful'
Prior to taking on the job of chief constable at the new national force, which came into existence on 1 April, Mr House headed up Strathclyde Police.
Edinburgh International Festival director Mr Mills said he was "very, very grateful and honoured" to have been knighted.
The 50-year-old, who was born in Sydney, is able to receive the honour as he is a citizen of both Australia and the UK - thanks to his Scottish grandfather.
Mr Mills said he was particularly pleased to have been honoured this year "given that it is the 60th anniversary of the Queen's Coronation, and she has been the patron of the festival since its inception".
He said: "I'm delighted, with that association it feels all the more special."
Mr Mills, who took on the role in 2006, will step down after next year's festival.
Coatbridge-born comic book writer and film producer Mark Millar receives an MBE for his services to literature and drama.
He is credited with revamping the X-Men series and bringing Captain America into the 21st century before going on to create the Wanted series and Kick Ass, both of which were turned into films.
Well-known microbiologist Prof Hugh Pennington is another prominent figure honoured.
The Emeritus Professor of Bacteriology at Aberdeen University receives a CBE for his services to microbiology and food hygiene.
John Carnochan, the former head of the police National Violence Reduction Unit, gets an OBE for his services to community safety.
A number of politicians are also honoured for their work, with former Liberal Democrat leader Sir Menzies Campbell awarded the Order of the Companions of Honour.
The North East Fife MP had a career as an advocate before entering the House of Commons in 1987, and was also a successful sprinter, competing in the 1964 Olympics in Tokyo.
Former Scottish Conservative leader David McLetchie, who has been a member of the Scottish Parliament since it was established in 1999, is honoured with a CBE.
Mr McLetchie resigned as Tory leader in 2005 after controversy over his taxi expense claims.
Barra lifeboat
Another politician who is being recognised is Alison McInnes, a Liberal Democrat MSP for North East Scotland, who was first elected to Holyrood six years ago.
Prior to that she served as a councillor for 15 years and is now honoured with an OBE for public and political services in the Aberdeenshire area.
The Queen's Birthday Honours also reward ordinary Scots for the good work they do in their local communities.
James Gauld receives an MBE for services to the Strathallan Highland Games, while Jeanie Glass, the chief executive of the Glasgow Old People's Welfare Association, gets the same honour for her services to the community.
Irene Hogg, the general manager of the Loanhead After School Club, is another to receive an MBE - for her services to children and families in the Midlothian community.
Donald Macleod, the coxswain of the Barra lifeboat, gets an MBE in recognition of his voluntary work with the Royal National Lifeboat Institution, contributing to maritime safety in the Outer Hebrides.
The same honour goes to Michael Ward, curator of the Grampian Transport Museum, for his services to tourism and cultural heritage in Aberdeenshire.