Baby ashes commission says probes must be 'transparent'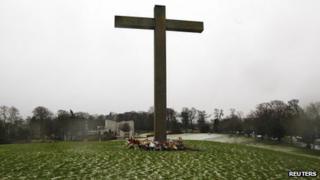 The commission looking into the baby ashes scandal has published initial advice for those carrying out local investigations into what went wrong.
The Infant Cremation Commission, chaired by Lord Bonomy, was set up after it emerged baby ashes had been scattered without parent's knowledge.
The group has met twice and said discussions were "very constructive".
It has urged crematoria owners to carry out investigations "transparently, independently and objectively".
In December it emerged that Mortonhall crematorium in Edinburgh secretly buried the ashes of babies for decades without the knowledge of the families.
Since then, other local authorities have been implicated.
It was revealed that the ashes of 24 babies cremated at Aberdeen crematorium in the last five years were never given to the families.
Glasgow City Council apologised to one family and joined calls for an independent investigation into the practices of publicly-owned crematoria to be held.
The commission will not investigate individual cases as part of its review but has said it wants to hear from bereaved parents, local councils and cremation staff.
Lord Bonomy said. "I am pleased to report that the Infant Cremation Commission has now met twice, with very constructive and productive discussions even at this early stage.
"We have now published initial guidance for all cremation authorities, to assist them if they conduct a local investigation.
"This guidance includes ensuring any such investigations are conducted transparently, independently and objectively and are respectful and sensitive to the concerns of affected families."
The group is made up of representatives from local authorities, the NHS, organisations involved in cremation and relevant charities.
It is reviewing legislation, guidance and practice across Scotland and internationally in relation to the handling of ashes after the cremation of babies and infants.
Former Lord Advocate Dame Elish Angiolini is already chairing an investigation into practices at Mortonhall crematorium.
The commission is expected to make its recommendations by the end of the year.