High Street sees return of Scottish shoppers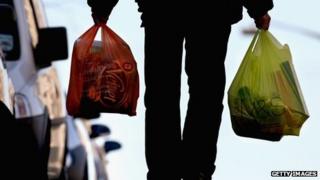 Scottish shoppers are venturing out onto the high street but are focused on good deals, data has suggested.
The Scottish Retail Consortium (SRC) footfall figures showed numbers were 3% higher than a year ago - an improvement from the 1% rise in April.
Scottish retailers faired much better than the whole of the UK, where shopper numbers were down 0.7%.
However, retail sales growth remained fairly flat at 0.8% compared to 3.4% across the rest of the UK.
Fiona Moriarty, director of the SRC, said: "This suggests that whilst Scottish shoppers may be more willing to hit the high streets they remain reluctant to part with their hard-earned cash and are spending more time on the hunt for good deals and seasonal promotions."
She said shopper numbers on high streets drove much of the overall footfall increase.
"Unfortunately not all of this footfall growth translated into pounds spent in store," she added.