Civil partnerships for heterosexual couples considered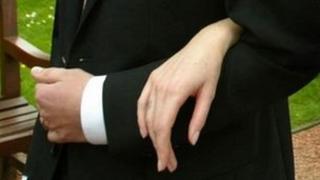 Heterosexual couples could be allowed to enter civil partnerships under proposals being considered by the Scottish government.
Civil partnerships were created to give gay couples the same legal rights as married heterosexual couples.
The government said it would make an announcement on civil partnerships shortly.
It is understood that will relate to future legislation for mixed sex couples.
It follows the announcement earlier this month of a review of civil partnerships in England and Wales.
Civil partnership status offers the same rights as married couples in areas such as inheritance, pension provision, life assurance, child maintenance, next of kin and immigration rights.
A Scottish government spokeswoman said: "The UK government has announced that it will review civil partnerships in England and Wales.
"Following this, the Scottish government is considering the best approach in Scotland and will make an announcement shortly."
The Marriage and Civil Partnership (Scotland) Bill, which will legalise same-sex marriage, is due to be introduced to the Scottish Parliament before MSPs break up for summer at the end of the month.
Gay rights charity The Equality Network launched a campaign for same-sex marriage and mixed-sex civil partnerships in 2008.
Tom French, a policy coordinator for the Equality Network, said an Ipsos MORI poll it commissioned last June suggested 71% of people in Scotland supported mixed-sex civil partnerships, with 16% opposed.
'Greater choice'
The same poll suggested 64% supported same-sex marriage, with 26% against.
Tom French, policy coordinator for the Equality Network, said: "We believe that the law should be equal with the same choices for everyone. We hope the Scottish government will shortly set out a clear path to changing the law in this area.
"Whilst opponents say it would undermine marriage, the evidence from other countries including the Netherlands and France is that greater choice increases the overall number of people in stable, registered relationships.
"Both the Scottish and UK governments say they want to increase the number of people in stable relationships, and the evidence shows that opening up civil partnership to all couples would help them achieve this goal."