SQA defends Higher Maths exam labelled as 'easiest ever'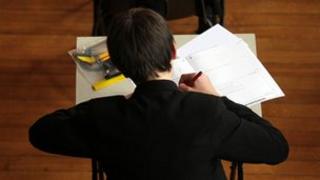 The Scottish Qualifications Authority has defended this year's Higher Maths exam after a former principal examiner said it was the easiest he had seen.
Clive Chambers said the 2013 paper had been "dumbed down" and was not hard enough for the best candidates.
He said there were too few testing questions for pupils who might get an A or a B.
The SQA said it was satisfied the exam had been fair, balanced and sufficiently challenging.
Mr Chambers, who used to be a principal examiner with the SQA, told The Herald newspaper that a typical exam should have just over a third of questions deemed suitable for A/B candidates, but he believed only 15% of questions in this year's Higher Maths paper reached that level.
He also alleged that candidates had been asked about the same area of the syllabus more than once, and that one question was more suitable for the Standard Grade exam than the Higher level.
Grades adjusted
He described the paper as "poor quality" and said he thought it had been dumbed down compared to previous years.
The SQA has insisted the more difficult questions - designed for the best candidates - made up more than a third (35%) of the total in this year's paper.
Director of qualifications development, Dr Gill Stewart, said: "SQA would like to reassure candidates and their parents or carers that it is satisfied this year's Higher Maths examination was fair and balanced, and offered an appropriate degree of challenge for candidates at A, B and C level.
"The exam paper is subject to a range of quality assurance checks prior to being signed off, including vetting and scrutiny by maths practitioners independent of those who set the paper."
Dr Stewart insisted the "fair and balanced" nature of the Higher Maths paper was backed up by feedback the SQA has received from teachers and schools.
She also said highlighted the fact that if an exam turned out to be easier than planned, then grades would be adjusted to take account of this.
She added: "SQA gathers qualitative feedback on all exams through online surveys - one aimed at candidates and another aimed at teachers and lecturers.
"Additionally, all markers have to complete a report to identify if there were any problematic questions in the examination.
"If the exam has been harder than planned, grade boundaries are adjusted down. If the exam was easier than previous years, grade boundaries are adjusted up. This ensures that standards are maintained from one year to another, so that someone who got an A, B or C grade last year would get the same grade this year."
'Worrying reports'
Opposition parties have called for further investigation of the issues raised about the Higher Maths exam.
Labour's education spokesman Hugh Henry said: "Pupils, employers and universities need to know that standards are being maintained and quality is not being compromised.
"This is the latest in a series of worrying reports about the Higher Maths exam. Mike Russell needs to explain to MSPs just exactly what is going on and give an assurance that there is no fiddling going on behind the scenes."
Scottish Conservative education spokeswoman Liz Smith said: "Parents have a right to full transparency on this matter, and will be extremely concerned about this latest suggestion.
"We can't afford for the credibility of Scotland's maths exams to be called into question."