'Dementia crisis' looming in Scotland, Tories warn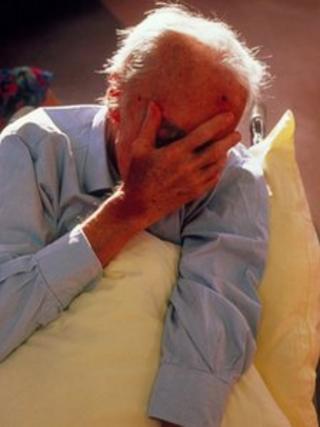 Scotland's government should prepare for an "intensifying" dementia crisis, the Tories have warned.
The call came after the party obtained NHS Scotland figures which showed that more than 183,000 prescriptions for dementia drugs were handed out in 2012.
That was 30,000 more prescriptions than in 2011-12 and nearly 50,000 more than in 2010-11, although the dementia drugs bill has fallen during that time.
Ministers said services would evolve to cater for an ageing population.
There are currently about 86,000 people in Scotland with dementia, mainly with Alzheimer's disease.
The call for the government to ensure the NHS would be able to cope with future dementia sufferers' needs came from the deputy leader of the Scottish Conservatives, Jackson Carlaw, who is also the party's health spokesman.
He said: "This problem has been coming down the tracks for some time, and we can see from these figures that it is intensifying.
"There's little that can be done in the short-term to prevent the increase in people suffering dementia, particularly as our general population gets older.
"But it is essential the Scottish government is prepared for this, because we have all been warned about the scale of the challenge for some time.
"We need to ensure there is enough capacity for those dementia sufferers who eventually require hospital care, and guarantee that when they are treated in a general ward for other issues, staff are sufficiently trained to deal with the additional difficulties dementia brings.
"It's also essential we have enough quality care home places available, and that these facilities have the trust of the patients' children, spouses or relatives who place them there."
Despite the rise in the number of prescriptions issued, the figures from the Information Statistics Division also showed the cost of the drugs had fallen, from just under £15m in 2011-12 to just over £10.2m last year.
In total, NHS Scotland has spent more than £38m on prescriptions for dementia drugs in the past three years.
A Scottish government spokesman said: "People in Scotland are living longer, healthier lives and such a significant change inevitably means that services need to evolve in order to meet the challenges of a rapidly ageing population.
"A national target on improving dementia diagnosis rates has already been achieved and around 64% of those with dementia are currently being diagnosed in Scotland - significantly higher than England and Wales.
"As more people get diagnosed we expect overall prescriptions to rise. However, the prescribing of psychoactive medication to help manage the more advanced stages of the illness has declined since 2009 and we are committed to further reducing such prescribing.
"We have in place a world-leading commitment on post-diagnostic support for people diagnosed with dementia, which ensures every person newly diagnosed with dementia receives at least a year of post-diagnostic support, provided by a named person.
"We also have Alzheimer Scotland nurse consultants and dementia champions working in NHS boards across Scotland and a new National Action Plan to further improve dementia care in hospitals."