Rent arrears rise after benefit cut, Cosla survey suggests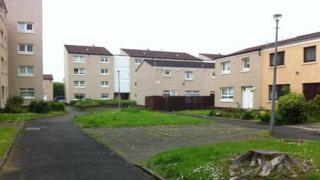 The bulk of Scottish councils reported a rise in rent arrears since changes were made to housing benefit in April.
Under-occupancy charges came into effect on 1 April as part of wider UK government welfare reforms.
Cosla, the local authority umbrella body, surveyed 20 of the 26 councils which have their own housing stock.
Every council surveyed, except for one, recorded a rise in arrears. Debts for April were up £2m on the same month the previous year.
Cosla said if that trend continued, the policy would result in rent arrears of about £25m a year.
The Department for Work Pensions said Scotland had been given £10m to help vulnerable claimants and reforms would restore fairness to the system.
Under the changes, housing benefit has been cut by 14% for people deemed to have one extra bedroom and by 25% for those deemed to have two extra bedrooms.
The changes apply to local authority tenants and those of registered social landlords.
'Ill-conceived policy'
Cosla said its survey found that three-quarters of the councils reporting rises in rent arrears reported that under-occupancy charges were directly responsible.
Four out of five councils report collecting 50% or less in rent due from tenants affected by the changes, while three in five report that they have collected as little as 40% or less.
The survey also revealed a sharp rise in requests for emergency housing payments for those struggling to pay rent.
Councils received more than 22,000 requests by the end of May. For most local authorities, this is more than four-times the number received in the same two-month period last year.
Cosla president David O'Neill said: "It will be exactly 100 days tomorrow since the under-occupancy changes were introduced and I derive no pleasure whatsoever in seeing that our predictions about the dire consequences of this ill-conceived policy are starting to be borne out.
"We always said that any saving to the UK Treasury would be reflected in additional costs and financial pressures for tenants and councils. Unfortunately that is exactly what is now happening.
"Councils are being required to reduce housing benefit payments only to see rent arrears rise sharply and tenants experiencing distress. At the same time housing services are being undermined by a threat to our income streams."
Scotland's deputy first minister Nicola Sturgeon said: "Local authorities across Scotland are having to deal with the appalling aftermath of the bedroom tax, which is hitting our most vulnerable citizens, including a high proportion of disabled people, extremely hard in these challenging economic times.
"The Scottish government and Cosla have had little indication from the UK government about how they intend to review the impact of the bedroom tax to date - even though it is clear from this research that it is driving up rent arrears and requests for emergency funds."
'Restore fairness'
A spokeswoman for the Department for Work and Pensions said: "We always monitor the impact of our policies carefully, but there is no conclusive evidence that people affected by our housing benefit reforms are not getting the help they need.
"This reform will help restore fairness to our housing benefit system and we've given Scotland £10m so vulnerable claimants get the help they need.
"It is simply not affordable to pay housing benefit for people to have spare rooms in social housing. In Scotland there are many thousands on housing waiting lists or living in overcrowded homes.
"This reform will save hard-working taxpayers almost £1bn over the next two years and will help restore fairness to our housing benefit system."