Andy Murray on 'crazy last game' to take Wimbledon trophy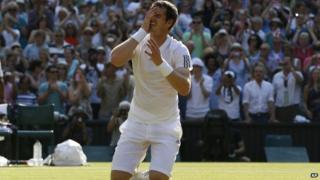 Andy Murray has spoken about his "crazy last game" after becoming the first British man to win the Wimbledon men's final in 77 years.
Murray stormed to a straight sets win in searing heat at the All England Club on Sunday afternoon, beating Novak Djokovic 6-4, 7-5, 6-4.
The 26-year-old, from Dunblane in Perthshire, is the first British men's final winner since Fred Perry in 1936.
He told BBC Scotland: "I will probably never top this in my career."
Murray is now the Wimbledon champion, US Open champion and Olympic gold medallist.
In the final game of the match, Murray lost three championship points from 40-0 and saw off three Djokovic break points before finally winning the title.
He told BBC Radio Scotland's Good Morning Scotland programme: "That was a crazy last game. It was the hardest game I've ever had to play in my life.
"It was a tough, tense last few minutes, that's for sure."
He said he had not remembered the last few seconds of the match until seeing it back on TV.
"At the time I had no idea what happened on the last point," he said.
The world number two said that although winning the US Open was "so special" as it was his first grand slam "Wimbledon is the pinnacle of the sport".
"This is the tournament that most players, if they could choose one tournament to win, it was this one."
Murray said he avoided the TV and newspapers in the past couple of weeks so it was not until coming off the court that he realised the massive amount of backing he had from fans.
"I saw it on images from Dunblane and from Henman Hill and it's just amazing that so many people were supporting," he said. "It was an epic last game."
In his home town, locals packed the Dunblane Centre and Dunblane Hotel to witness tennis history in the making.
Before lifting the trophy at Centre Court, he said: "I understand how much everyone wanted to see British winner at Wimbledon and I hope everyone enjoyed it."
Apart from the title and the trophy he takes a cheque for £1.6m, and there have been calls for a knighthood.
Congratulations have been sent to Murray, the world number two, from The Queen, politicians and personalities as well as friends, family and strangers.
First Minister Alex Salmond, who was at the final, called it a "truly phenomenal victory".
The spectators watching at the Dunblane Centre ranged from pre-school to pensioners.
Aileen Kelly, 48, from the nearby town of Braco, described the win as "the best moment ever".
"It's just a historic moment and brilliant to be part of it in Dunblane with the people of Dunblane.
"We've been through the tough times, we cried with him last year. To see him win is just the best moment ever."
Stewart Harris, chief executive of sportscotland, who saw the match on Centre Court, said: "Andy Murray has made history and deserves tremendous credit for his wonderful victory at Wimbledon.
"This is a defining moment for Scottish sport and there will be many celebrations the length and breadth of the country.
"To beat such a great player as Novak Djokovic, the world number one, in straight sets demonstrates Andy's talent and sheer drive to win.
"He thoroughly deserved to be crowned Wimbledon champion for all the dedication and hard work he and his team put in. Scotland salutes a true champion."