Boeing Dreamliner in first long-haul flight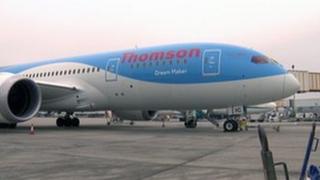 The Boeing 787 Dreamliner has taken to the skies for the first time from Scotland.
In its first long haul journey from the UK, the aircraft left Glasgow airport to fly to Cancun in Mexico.
The first transatlantic flight by the Dreamliner left at 09:40 with 291 passengers on board.
Thomson airways have introduced the aircraft to the UK for selected routes including Mexico and Orlando in Florida.
Boeing claims the Dreamliner, which is constructed from carbon fibre and plastic, is the world's most efficient aircraft.
Each Dreamliner can carry up to 291 passengers and fly as high as 38,000ft (11,500m).
Boeing claims the combination of lightweight materials and new engines from General Electric and Rolls Royce means that the Dreamliner is 20% more fuel efficient than equivalent aircraft in use, and also 60% quieter.
Early problems
The plane, first unveiled more than a year ago, has overcome a series of problems since its launch.
Earlier this year Japan's biggest airlines suspended flights, after one of the aircraft was forced to make an emergency landing.
Eight airlines in total followed suit, grounding fights in January following battery faults, before resuming service in April after extensive work and checks.
Scotland's Deputy First Minister Nicola Sturgeon said: "It is exciting to see the 787 Dreamliner make its first flight from Scotland and I am sure that all of those on board will have the best start to their holiday.
"We want to see more direct long-haul flights from Scottish airports and having this state-of-the-art aircraft depart from Glasgow is very encouraging, especially as this aircraft is suited to routes from regional airports because of its long range."
Passenger reassurance
Amanda McMillan, managing director of Glasgow Airport, said: "I had a sneak preview of the aircraft last night and it will be a very engaging experience for the passenger.
"It allows us to offer the passengers an engaging experience and hopefully one where they can go to other destinations in the future."
She said the introduction of the aircraft in the UK would allow passengers to go to different destinations that were not previously possible.
The aircraft is only available on Thomson routes at the moment and the flight from Glasgow was the first time it had flown from the UK.
It will also fly from London Gatwick, Manchester and East Midlands airports.