Scots police deployed to Orange Order parades in Northern Ireland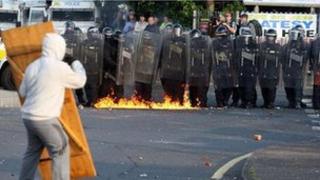 The Scottish Police Federation (SPF) has expressed concern at its members being sent to help oversee Orange Order parades in Northern Ireland.
Public order teams from Police Scotland are expected be among 630 officers from across Britain drafted in to help the Police Service of Northern Ireland.
The SPF said it could not ignore calls for help.
But it warned the policing environment in Northern Ireland was "totally different to ours".
A total of 550 parades are due to take place throughout Northern Ireland on 12 July - the height of the traditional marching season.
The PSNI has requested the help of 30 units of specially trained public order officers from forces across England, Scotland and Wales.
It said the additional officers, all of whom received specialist training in the run-up to last month's G8 summit in Northern Ireland, would not be deployed to high-risk areas.
The SPF, which represents 98% of Scottish police officers, said it was "right and proper" that its members should help colleagues in the PSNI when urgent assistance was called for.
But a spokesman added: "While our members are highly trained and ready to go, the policing environment in Northern Ireland is unique and totally different to ours, with the constant threat of varying incendiary devices and firearms being used against the police.
"The marching season is hardly an unknown event in Northern Ireland and the SPF has obvious concerns about the policing and political implications as a consequence of the deployment of our members; but we simply cannot ignore calls for help.
"While it is for politicians to examine whether these implications are a price worth paying, we are absolutely clear that mutual aid should not be used as an excuse or reason to underfund and under-resource the PSNI."
The chief constable of the PSNI, Matt Baggott, said officers called in from Scotland, England and Wales would not be posted to potential flashpoints, for example Ardoyne in north Belfast where the threat of disorder was high.
Petrol bombs
The additional mutual aid officers will be equipped with the same kit as their Northern Irish colleagues but will not be deployed without the assistance of an armed PSNI officer.
He added: "This is a unique year. If you look at the scale - 550 parades, we have 43 that are sensitive - it would be remiss of me not to plan for every eventuality.
"This particular year I thought it was wise and the right thing to do to bring people over."
Last year police were pelted with petrol bombs, bricks and other missiles when trouble flared following an Orange Order parade past the Ardoyne interface.
Shots have also been fired and an explosive device was thrown at police lines during clashes with protesters.
Talks between nationalist residents opposed to the annual march and the Orange Order ended without agreement.
The threat from dissident republican terrorists opposed to the peace process remains at a severe level in Northern Ireland, according to the Home Office.