MSP 'had been up to no good' as wife gave birth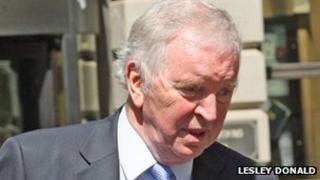 An MSP was not at his wife's bedside as she gave birth because he was with another woman at the time, his trial has heard.
Bill Walker, 71, missed the birth of one of his sons because he "had been up to no good", it was claimed.
The allegation was made by retired health visitor Mary Walker at Edinburgh Sheriff Court.
Dunfermline MSP Mr Walker denies 23 charges of assault against four women over a 28 year period.
Giving evidence in the witness box, Mrs Walker, 75, she had gone to Mr Walker's home in 1977 to see his then wife Anne Gruber.
She Mrs Gruber, now 71, told her that Mr Walker was seeing another female when she was in an Edinburgh hospital having their son Douglas.
'Very nervous'
Mrs Walker went to see Mrs Gruber several times because she had recently given birth and formed the impression that she was in an unhappy relationship with Mr Walker.
She told depute procurator fiscal Les Brown that Mrs Gruber was "pale, unhappy looking and shaking" and stated that Mr Walker was subjecting her to physical and emotional abuse.
Mrs Walker added: "She was not in control of her emotions. She was clearly unhappy. There were tears."
Mrs Gruber had told her that Mr Walker "had been up to no good" and she added: "She told me that on the night that Douglas was born he was with another woman."
On another occasion she visited Mrs Gruber at home for lunch.
Mr Walker returned unexpectedly, Mrs Walker said, which had caused Mrs Gruber to become "very nervous".
"She got up from the table and was shaking and was saying: 'He's back. He's back'," Mrs Walker said.
Special defences
Mrs Walker said she had felt "uneasy" and left the house.
She recalled that the MSP once called her at home and asked to meet her but she did not accept the invitation.
It is alleged that Mr Walker, of Alloa, Clackmannanshire, abused four women at addresses in Edinburgh, Stirling, Midlothian, and Alloa between January 1967 and January 1995.
He has also pleaded not guilty to a breach of the peace charge.
His lawyers have lodged special defences of self defence to three of the charges.
The trial, before Sheriff Katherine Mackie, continues.